Here's every Nintendo Switch game trailer released so far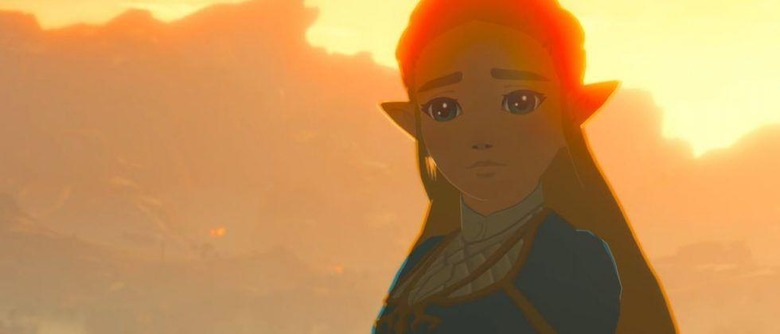 We were hoping that Nintendo would have a lot of games to show off during last night's Switch event, and boy did Nintendo deliver. With an impressive of number of games announced, that can only mean one thing: a lot of game trailers. Luckily for you, we've collected them all in this one place you don't have to go searching for them. There are a lot of trailers to get through, so grab a snack, put your feet up, and enjoy the show.
The Legend of Zelda: Breath of the Wild
This is the big one, folks. With Nintendo announcing last night that The Legend of Zelda: Breath of the Wild will be launching alongside the Switch on March 3, expect the already high anticipation for this game to reach a fever pitch in the next few weeks. Of course, it helps that Nintendo showed a pretty epic Breath of the Wild trailer last night, giving us an extended look at Princess Zelda and Calamity Ganon.
ARMS
ARMS is an interesting new title that aims to show off all of the functionality of the Switch's Joy Con controllers. In the game, players will face off in boxing matches, though to leave it at that would do a disservice to how wacky the gameplay seems. Have a look at ARMS' equally wacky trailer below.
1-2 Switch
Another game that feels more like a proof of concept, 1-2 Switch seems to pit players against each other in mini-games centered around the Joy Con controllers. This is definitely one of the more cinematic trailers of the bunch, and in fact, there isn't much gameplay to speak of at all. Expect 1-2 Switch to focus more on interaction between players than staring at the screen.
Super Mario Odyssey
Another big announcement from last night, Super Mario Odyssey will be the first "open world" Mario game we've received since Super Mario Sunshine on the GameCube. In the trailer you see below, Mario visits a number of different locations (including one that looks awfully similar to Earth's big cities) and shows off a new hat throwing power. We also get Bowser dressed in a ridiculous suit, so what's not to love?
Splatoon 2
It turns out that the Splatoon teaser we saw during the Switch reveal trailer back in November wasn't a port of the Wii U game, but rather a sequel. Splatoon 2 on the Switch is sure to please a lot of folks who were smitten with the first title, even though it doesn't look like a whole lot will be changing. As the saying goes: If it ain't broke, don't fix it.
Mario Kart 8 Deluxe
Mario Kart 8 Deluxe will be taking the Wii U title and porting it over to the Switch, adding a few enhancements in the process. Not only will the game add a new battle mode, but it'll also bring with it Splatoon racers and arenas. On top of that, it'll include all of the game's DLC, so expect this release to be the definitive version of Mario Kart 8.
Fire Emblem Warriors
Here's some good news: there's a new Fire Emblem game coming to the Switch. The bad news is that we don't really know much about it, seeing as the trailer below only amounts to a teaser. Still, it's being developed by Tecmo Koei, so we can probably assume that this is a mash up of Fire Emblem and Dynasty Warriors, much like Hyrule Warriors was.
Xenoblade Chronicles 2
The next time someone tries to tell you that global corporations don't listen to their customers, feel free to point them toward the Xenoblade franchise. The original Xenoblade Chronicles was meant to stay a Japan exclusive until consumers in the US and Europe decided to endlessly badger Nintendo, and now years later, we get the announcement of Xenoblade Chronicles 2. The game looks like it's still in the early stages of development, but knowing that it's coming will be enough for most Xenoblade fans.
Project Octopath Traveler
Leave it to Square Enix to come up with another ridiculous name for one its games. A lot is unknown about Project Octopath Traveler at this point, but the teaser trailer below seems to suggest that it'll make use of the Nintendo Switch's 8-player LAN functionality. However the game ends up, one thing's for sure: There's no way we're forgetting its name.
Disgaea 5 Complete
NIS America is one of the studios throwing early support behind the Switch, and that support will come in the form of Disgaea 5 Complete. The trailer is really nothing more than a teaser, but fans of the series will already know what's up considering Disgaea 5 has been available on the PS4 since 2015. At the very least, we get around 30 seconds of some truly epic music, and that makes the short teaser worth it in the end.
Has Been Heroes
Developed by Frozenbyte, the studio behind the Trine series, Has Been Heroes is a game that takes a Warrior, Rogue, and Monk and tasks them with seeing twin princesses to school. Described as a roguelike strategy game, Has Been Heroes seems particularly stylish, and could prove to be a fun game to play on the go.
Sonic Mania
In truth, this is just the Sonic Mania trailer we saw last year with Switch branding added at the end. That being the case, Sonic Mania is indeed coming to the Switch later this year, and the trailer is just too good to pass up. Created in celebration of Sonic the Hedgehog's 25th anniversary, Sonic Mania will return the Blue Blur to his 2D side-scrolling roots in a game that nearly every 90s Sonic fan is excited for.
Super Bomberman R
What is there left to say about Bomberman? You know the drill – you control Bomberman and your mission is to blow stuff up as you look for the exit to each stage. One major feature in this Switch release is support for the console's 8-player LAN multiplayer, which should make for a truly hectic Bomberman experience.
Puyo Puyo Tetris
The final game on the list, Puyo Puyo Tetris merges the worlds of Tetris and Puyo Puyo Pop in what Sega calls "the ultimate puzzle showdown." The game supports both online and local multiplayer for up to four players. The finished product looks to be quite hectic, and it should make for one interesting mash up.
Nintendo Switch event and Treehouse live streams
If you happened to miss last night's Switch event and today's Treehouse event, never fear. We've posted both for you below, but be warned: the Treehouse VOD picks up shortly after the event began, but even with the beginning cut out, it clocks in at four hours long. Still, the folks at Nintendo use that time to take an in-depth look at many of the games announced for the Switch, so it's worth watching (just maybe not all in one sitting).
Wrap-Up
So, there you have it: every Nintendo Switch game trailer thus far. It's important to remember that Nintendo and its third-party partners announced many more games than this, but some of them are still in the early stages of development and don't have trailers yet. We'll likely see trailers for those titles launch in the coming weeks and months, and we'll be keeping an eye out for them. Which Switch game are you looking forward to the most? Let us know down in the comments section!