Here Comes the Sirius Stiletto 100 Fully-Portable Satellite Radio Receiver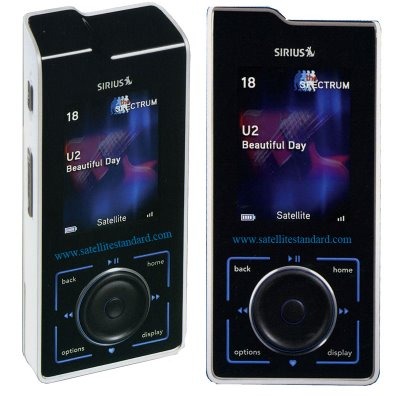 UPDATE 08/28/2006: Added hi-res image and retail product sheet, thanks to SSG for the high-resolution image of the SIRIUS Stiletto and GSI.Oh boy – I'm getting chills down my neck as I eagerly write about the Sirius Stiletto 100. I confess that when Howard Stern moved to Sirius, I was one of the many millions that subscribed. I've been waiting months on in for a portable solution from Sirius. Howard and Bubba the Love Sponge (Howard 100 and 101) my dear friends, I'll have you everywhere I go – in my car, my office, airport and yes even while I'm on the toilet.
The Sirius Stiletto 100 is a serious portable device with a bigger screen and an easy-to-use click wheel (similar to that of the iPod). Other cool features include up to 100 hours of music (MP3/WMAs), audio via WiFi connectivity. There are two batteries included with the packaging. One standard, and one extended life, which offers 4 hours of live Sirius reception, 14 hours of WiFi reception, and 22 hours of stored playback time. Yes it does sound confusing right now, but things should be cleared up closer to launch – I hope.
This premium player comes with a premium price of $399.99; and Crutchfield just confirmed that the Stiletto will be on their website on September 1 (holy smokes that's my BIRTHDAY!). So Sirius/Crutchfield, if you're reading this I sure could use the Stiletto for my birthday review should you have an extra laying around. There's also a rumor that Circuit City and Best Buy will also have a few units in stock this month.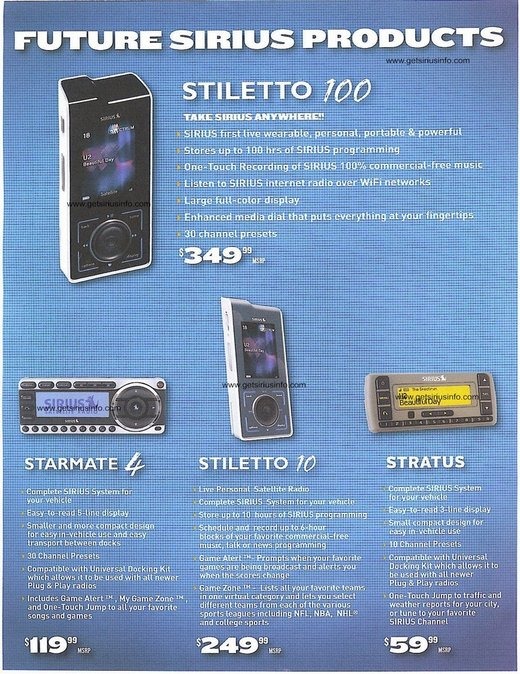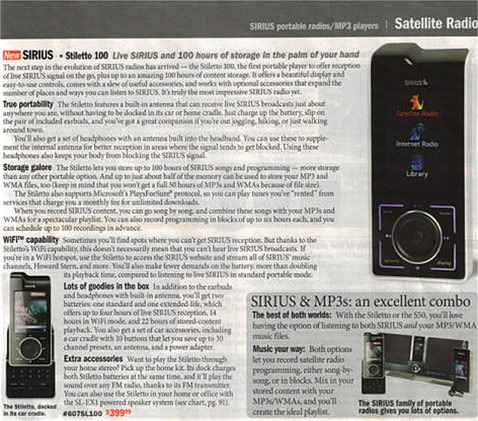 Sirius Stiletto 100 – FOUND [via Orbitcast]