Here are the three new Monopoly tokens coming later this year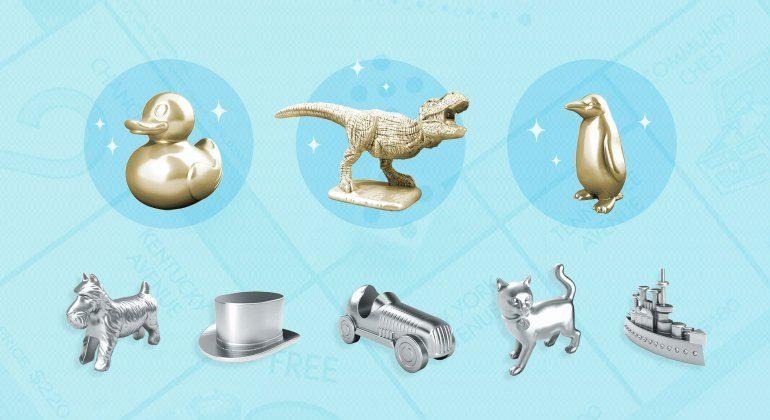 Earlier in the year, Hasbro revealed that Monopoly's thimble was on its way out. Today, it's being joined by two more tokens that have been determined to be no longer relevant: the boot and the wheelbarrow. Those will all be phased out later this year and replaced with three new tokens that were chosen in a fan vote which attracted 4.3 million voters from around the world.
The options that fans had when voting was still open were definitely varied, as it included electronic devices, animals, and perhaps worst of all, emoji. The good news is that none of the proposed emoji tokens made the cut. Instead, the three tokens that will be joining the Monopoly roster are the Tyrannosaurus rex, rubber duck, and penguin.
So, it certainly could be worse, but it leaves us wondering just what the Tyrannosaurus rex or rubber duck have to do with Monopoly's rags-to-riches theme. In any case, Monopoly is definitely looking a lot different these days. Since 2013, a total of four tokens have been phased out – in addition to the ones departing this year, 2013 saw the iron being dropped in favor of the cat token.
Now, Monopoly's token lineup includes the Scottie dog, racecar, top hat, rubber duck, Tyrannosaurus, penguin, cat, and battleship. For those who are sad to see the thimble, wheelbarrow, and boot go, you've still got time to buy a Monopoly set featuring those tokens. The changeover isn't going to happen right away, as Hasbro says that the new tokens won't make their way into the game until fall 2017.
When, precisely, that change will happen is unknown, but it's nice to know that we still have a little while until it does. What do you think of these new Monopoly tokens? Head down to the comments section and let us know!