Hercules DJ Console MK2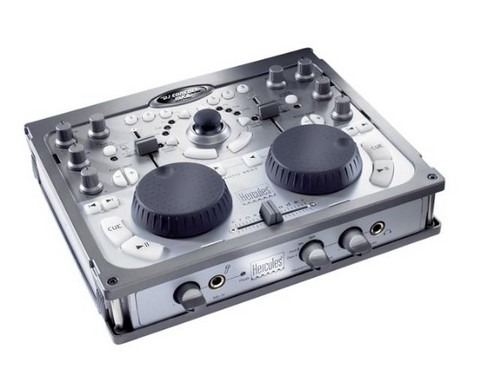 Hercules have introduced the refreshed MK2 version of their DJ Console, intended to make editing and mixing digital music straightforward to even most amateur DJ.  Bristling with controls, it features dual jog-wheel decks, independent volume and pitch control, a cross fader and 2x3 equalization buttons.
The Console connects to a notebook or desktop via USB, measuring 9.4 x 8 x 2.6-inches and weighing in at 1150g. MP3s and CDs are supported, as well as other digital formats, but you can also pipe through analog sources via the two line/phono inputs. As with a traditional mixer there's headphone monitoring and a microphone input with talk-over function. You're also able to add effects, loops and cue-points.
The Hercules DJ Console MK2 is available now from J & R Computer World, Sam Ash, DJ Supply, Guitar Center and Long-McQuade (CA). It's priced at $249.99 and includes a customized version of Virtual DJ 3 DJ Console Edition for PC and Mac.