Hennessey Venom GT steals the top-speed title from Veyron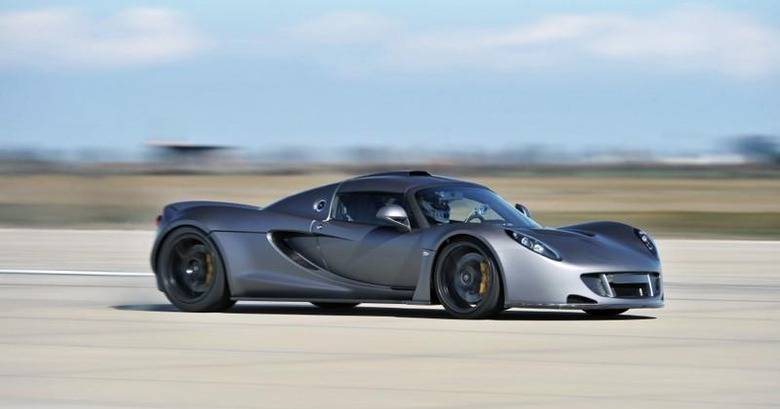 The Hennessey Venom GT has just scored itself the honor of being the world's most fastest production vehicle available to the public. Hennessey Performance announced that on February 9th of this year, the Venom GT accelerated to 265.7 mph, slightly beating out the Veyron Super Sport, setting a new top speed record, and taking away Veyron's crown. The testing was done on the United States Naval Air Station and logged by VBOX officials.
Now some of you may be confused because the Veyron Super Sport was able to achieve 267.8 mph during its tests. While it was able to, its company, Bugatti, limited its actual production vehicles to only 258 mph. Hennessey Performance CEO, John Hennessey, stated that as impressive as the Venom GT's 265.7 mph performance was, the 2.9 mile runway they were testing on was "far too short for the Venom GT to reach it's true top speed."
The Venom GT is truly an impressive work of art. It has a 7.0-liter V8 engine powered by twin Precision turbochargers that can push out 1,244 horsepower and 1,155 pound-ft of torque at 19 psi of boost pressure. The Venom GT is able to go from 0-60 mph in just 3.05 seconds, and 0-100 mph in just 5.88 seconds. It had even set a new Guinness World Record by being able to achieve 0-300 km/h in 13.63 seconds, making it the quickest accelerating production vehicle in the world.
There will only be 29 Venom GTs produced. Each of these 2,743-pound vehicles will sell for $1.2 million each for the basic configuration, meaning that most of us won't be able to afford it unfortunately. After ordering, each vehicle will take about 6 months to customize before its completed. Hennessey states that 33% of the 29 Venom GTs have already been sold.
[via Venom GT]