Hennessey Venom F5 is a 300mph American hypercar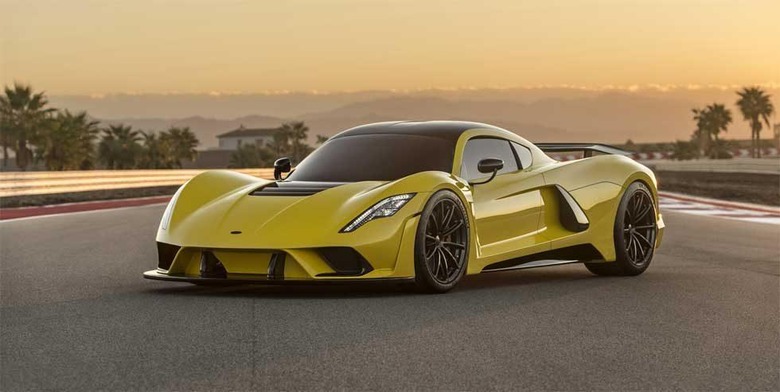 SEMA is underway and one of the coolest things at the show this year comes from Hennessey in the form is the Venom F5. The F5 is making its world premiere at the show and is an all-new hypercar that was designed and built with the single goal of being the fastest road car on Earth. The car rolls on a newly designed chassis and has a carbon fiber body.
The design of the car looks good and was designed with a focus on aerodynamics. The body of the car has a coefficient of drag of only 0.33. The power for all that speed comes from a new twin-turbo V8 engine that delivers over 1600 bhp.
That engine is paired with a 7-speed single clutch paddle shift transmission and power goes to the rear tires. All that power is crammed inside a body and chassis that tips the scale at a 2950 pound curb weight. Hennessey says that the big V8 will accelerate the car from 0-186 mph in less than 10 seconds.
That is quick enough to make the Venom F5 faster than current F1 cars to 186 mph. The car will be able to run 0-249 mph and back in under 30 seconds. The top speed is projected to be over 300 mph.
Th cost for that much speed is steep with each of the 24 examples to be built selling for $1.6 million. Some hypercars must have their wheels and tires replace if they ever hit top speed, I wonder if the Venom F5 will need replacement parts after hitting 300 mph. Hennessey is also showing off the VelociRaptor 6x6 at SEMA.
SOURCE: Hennessey