Hennessey to show epic Venom GT at McCall's Motorworks Revival this week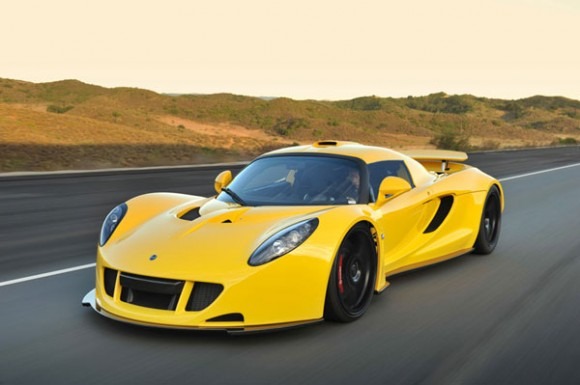 If you ever needed a reason to pursue higher education or to purchase copious amounts of lottery tickets, the Hennessey Venom GT is it. The car looks a lot like a Lotus because it is built from a base Lotus Elise/Exige. That is fine by me because the Lotus Exige is a dead sexy car. The Venom GT is a supercar that packs in an astounding 1,200 HP twin-turbo V8 engine and puts all that power inside an ultra-lightweight chassis.
The yellow beast you see here is in a hue dubbed bug-killer yellow. The Venom GT is a very low production supercar that Hennessey produces only five of each year. The car comes in right or left hand drive and each copy sells for $950,000 plus upgrades and shipping. Building one of the cars takes six months by a small team of craftsmen that do everything by hand. The car is produced in Sealy, Texas, Lake Forest, California, and Silverstone, England.
The 1,200 HP engine is mounted in the middle of the car and the entire vehicle weighs 2,685 pounds. That gives the car a power to weight ratio that no streetcar can match and only a few race cars can match according to Hennessey. The top speed for the car is 275 mph, the 0-60 time is 2.5-seconds, and the car runs the quarter mile in 9.9 seconds at 162 mph. It can travel 0-200 mph in only 15.9 seconds, roughly 8-seconds faster than the Bugatti Veyron. Hennessey will be showing the car off at McCall's Motorworks Revival at the Monterey Jet Center August 17.