Hennessey Performance Crams 805hp into Jeep Grand Cherokee SRT8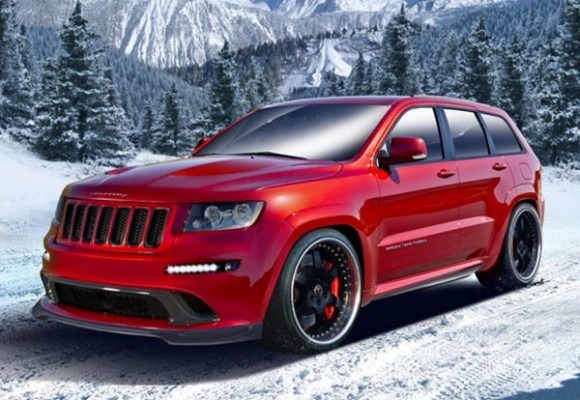 I think that a lot of people that are into cars will agree that there is something to be said about a sleeper. The sleeper is the sort of car or truck that doesn't look fast and then sucks the paint off the car in the lane next to it when it's go time. Sleeper certainly fits the Hennessey Performance HPE800 Twin Turbo Jeep. The lowered stance and sleek bodywork hint that something is not natural about the SRT8 after Hennessey gets a hold of it.
The HPE800 takes the Jeep 6.4L Hemi V8 and punches it out to 7.0L displacement and then straps a pair of turbos to the mill and puts down 805hp and a gargantuan 823 pound-feet of torque at 4,000 rpm. With that kind of power on tap, you might expect the car to have a lot of low end, and it does. The jeep can hit 60mph from a standstill in 3.1 seconds. It also gets a lowered suspension, 15.1-inch Brembo brakes all around, special wheels, and a beefed up transmission and torque converter.
All the performance the Jeep delivers is far from cheap; to get your Jeep HPE800 will start at $235,000. That is exotic car money right there, you can have a Ferrari or Lamborghini for that price. Still Hennessey expects that it will be able to sell all 24 of these wild Jeeps it plans to build.
[via Motorauthority]