Hennessey Maximus 1000 is a Jeep Gladiator with 1000HP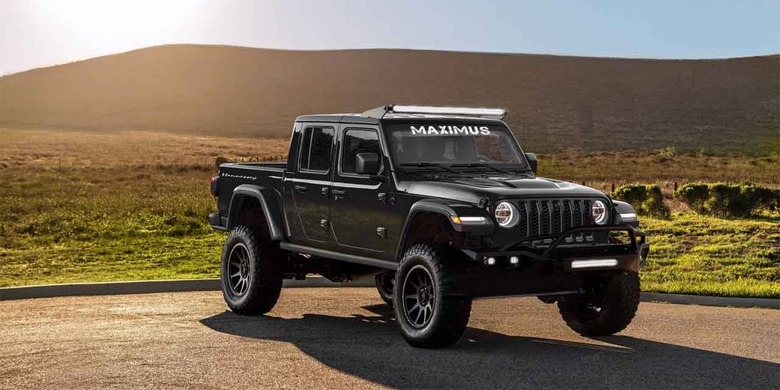 One of the most anticipated trucks in the mid-size segment is the Jeep Gladiator. Some aren't happy that the Gladiator launched with the only engine option being the V6 found in the Wrangler. The Hemi V8 will fit in the Gladiator and Wrangler, but it's a tight fit and apparently can't pass crash tests. Hennessey has a very hopped up version of the Gladiator that is called the Hennessey Maximus 1000.
Hennessey takes the V6 out of the Gladiator and crams in the supercharged 6.2L V8 engine from the Hellcat that makes 1,000 hp and 933 pound-foot of torque. The engine is paired with an 8-speed automatic transmission. All of the mods needed to support the engine have been added to the Gladiator.
That includes an ECU, wiring harnesses, radiator, and fuel system. The truck has a stainless steel exhaust system and Maximus front and rear bumpers and LED lights. The car rolls on 20-inch wheels with BFG tires. We aren't sure what tires the Maximus 1000 has, the press release says "BFG 20-inch KD Off-Road Tires" clearly those are larger than 20-inch tires, we'd guess with the 6-inch suspension lift that they are 37-inch tires.
The truck also gets a custom leather interior update, and Maximus embroidered seats. Hennessey is making only 24 Maximus 1000 trucks with each one of them costing $200,000. The price does include the base Jeep Gladiator truck. It's not clear which version of the Gladiator Hennessey is using for the builds.
At the price Hennessey is asking, the Rubicon version is likely. The build time after ordering is about four months, and Hennessey will start building trucks in July. The volume is two trucks per month, so if it sells all 24 units, the entire production run will be gone in a year.