Hennessey Jeep Trackhawk Runs The 1/4 Mile In 9.66 Seconds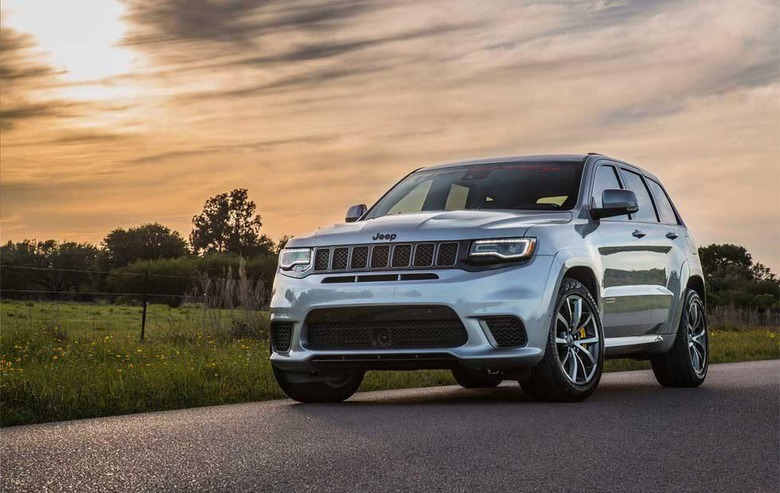 It's cool to see big cars that don't look fast go REALLY fast down the drag strip. This is exactly what Hennessey Performance has made the Jeep Trackhawk able to do. Admittedly, the Trackhawk is fast in pure stock form, but once Hennessey works its magic the Trackhawk is a completely different beast.
The result of the extensive work on the Hennessey Trackhawk is a four-door SUV that can rocket to 60mph in 2.3 seconds and run the quarter mile in 9.66 seconds at 145mph. The motor allowing this insane performance makes 1200hp. Hennessey says that its beast is the quickest accelerating SUV in the world.
The 6.2L Hellcat V8 under the hood of the Trackhawk gets an HPE1200 update with new pistons, rods, ported cylinder heads, cam upgrade, long tube stainless headers and a giant 4.5L supercharger. To make max power the SUV must run on 109 octane unleaded fuel and 22 psi of boost. That gives the car an output of 1003hp and 892 lb-ft of torque at the wheels.
To put the power to the ground, the four-wheel drive system is maintained, and all four wheels are shod in Nitto 555R 275/40-20 drag radial tires. Hennessey also whipped up a system that converts the full-time 4-wheel drive Trackhawk to rear-wheel drive only for burnouts.
All the massaging done by Hennessey performance is far from cheap. The HPE1200 Trackhawk sells for $179,000 including the 2019 Jeep Grand Cherokee Trackhawk base vehicle. Hennessey will make only 24 units and they will be offered globally.
SOURCE: Hennessey