Hennessey Jeep Trackhawk HPE1000 Supercharged packs 1,012hp
The 2018 Jeep Grand Cherokee Trackhawk is already a potent SUV packing in 707hp from the factory. For the folks over at Hennessey, factory power is never enough. The company is making the Jeep Trackhawk HPE1000 Supercharged SUV that brings even more performance to the mix.
The Trackhawk's supercharged 6.2L V8 gets upgrades to bring power output to 1,012 bhp and 969 lb-ft of torque. Hennessey says that will push the SUV from a standstill to 60mph in 2.8 seconds. The quarter-mile will fall in 10.5-seconds at 133 mph. The main upgrade is a giant 4.5L supercharger that has 14 psi of boost.
Stainless steel long tube headers and a high-flow supercharger bypass valve along with high flow injectors are included. The factory fuel system is upgraded with a Boost-a-pump system and custom tuning for the engine is done with an HPE engine management update.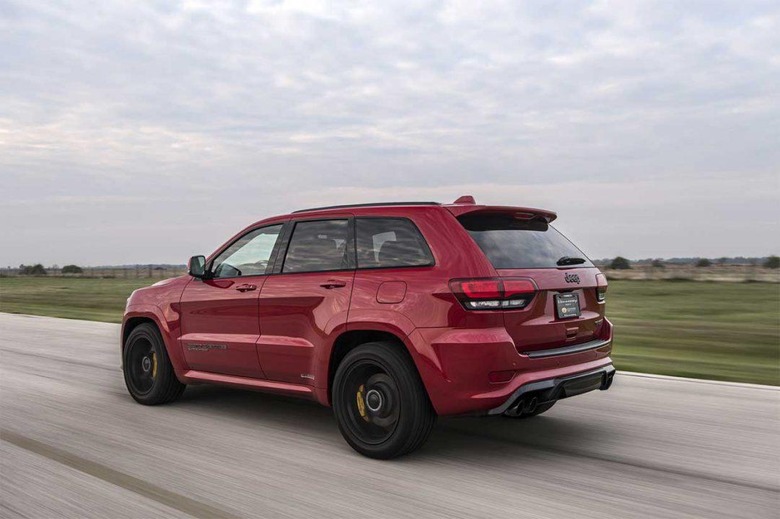 The package includes up to 200 miles of road testing, lots of Hennessey badging and interior plaques signed by John Hennessey. A plaque in the engine bay is signed by the tech who built the engine. Hennessey notes that the quarter-mile time is with an experienced driver on a prepped course and drag radial rear tires.
The factory Trackhawk is good for 0-6mph in 3.4 seconds. The quarter-mile time factory stock is 11.6 seconds. There is no word on the price of the Hennessey upgrades, but they won't come cheap.
SOURCE: Hennessey