Hennessey Heritage Edition Mustang packs 808hp, 677 lb-ft torque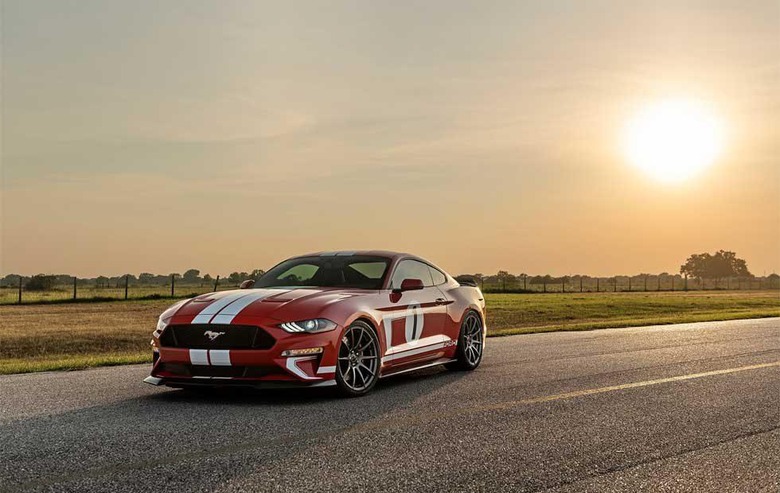 Hennessey Performance (HPE) has announced a milestone for the company. HPE has now built 10,000 vehicles and is celebrating the milestone with a special edition Ford Mustang. The Mustang is called the 2019 Hennessey Heritage Edition Mustang and was inspired by the 2018 Ford GT Heritage Edition.
Hennessey started with the stock Mustang 5.0L V8 and strapped on a supercharger. The engine makes 808hp and 677 lb-ft of torque at 4500 rpm. That much power and torque pushes the car to 60mph in 3.3 seconds and to a top speed of over 200 mph.
The car is red with white stripes and the hockey stripes on the side that look like they came off a Boss 302. The car also wears a number plate with #1 on it. One interesting factoid is that HPE has delivered a total of over 6.5 million horsepower.
The Heritage Edition Mustang is offered as a complete turnkey vehicle including the base Mustang GT and a factory 6-speed manual or a 10-speed automatic. Each of the Mustangs has a 3-year 36,000-mile warranty.
That Hennessey Warranty works right along with the factory Ford warranty. Hennessey will build only 19 of the Heritage Mustangs each having their own serial number dash plaque and engine plague. Starting price is $89,950.
SOURCE: Hennessey