Helio Ocean 2 almost ready to ship after much delay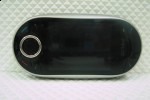 Helio is said to be readying the launch of the Ocean 2 or OZ2 as some may call it. This new flagship smartphone is the successor to the Ocean that was launched back in 2007 around the same time of the iPhone. The phone is said to be ready to hit store shelves as early as next month.
This device is said to have a 3-megapixel camera and the same dual-slider form that has recently been seen in a few Pantech devices. The Ocean 2 has only 1GB of internal memory that can be expanded via microSD card slot. One thing that has a lot of people excited is the rumor that this handset has integrated Flash support in the mobile browser. We cannot tell you how many times people complain that there is not Flash support in their smartphone.
Another curious aspect of the Ocean two is the optical navigational touchpad on the front, we are seeing more of this type of navigation in phones such as the Samsung Omnia. Lets hope this handset gets to see the light of day soon to help Helio pull out of a huge slump.