Helio Ocean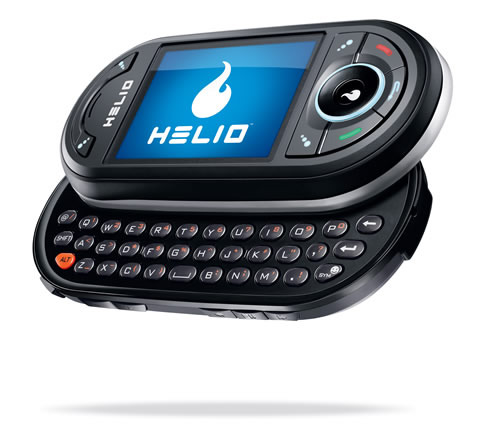 UPDATE 5/11/2007:
First things first: sod the iPhone. Yeah, you read right, forget about it. Stop saving 10-percent of your pay-packet every month, don't sign 18 to 24 months of your life away to Cingular, think laterally, not with the crowd. Helio have just blown everyone out of the water, and ironically they've done it with the Ocean.
Dual-slide for both number pad and full QWERTY. 3G for screaming downloads. Two-megapixel camera with flash, GPS, full HTML browser, 2.4-inch 260k colour QVGA display, on-board stereo speakers, 200MB of internal memory and microSD for more than 2GB more, USB Mass Storage Mode with PC and Mac compatibility... I'm throwing all this out in one fat chunk because if I were to talk you through it we'd be here all day.
And a fat chunk it certainly isn't: at 4.33 x 2.2 x .86 inches it's smaller in all dimensions than the Sidekick 3, as well as being lighter at just 5.61oz. It takes all the usual Helio goodies like instant messaging from Windows Live, Yahoo! and AIM, made super-simple thanks to the full keyboard, then adds out-of-the-box support for AOL, Hotmail, Gmail, EarthLink and Yahoo! Mail, Helio's own email service of course, and Microsoft Exchange for push-email. Extra accounts can be added thanks to custom POP and IMAP profiles.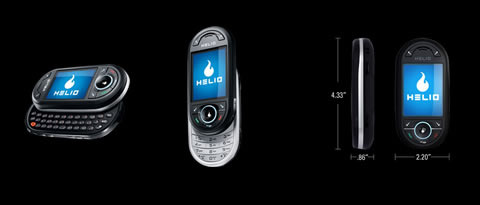 GPS-reliant features like Buddy Beacon and Google Maps are joined by the new Helio UP service, a way of easily tagging photos with title, description, keywords and geographical location before uploading them to the online Helio Album. Alternatively Helio's tight MySpace integration means adding pictures to your profile is as straightforward as navigating those of your friends in either the browser, thanks to the Mini Map and page optimisation, or the MySpace on Helio v2 app.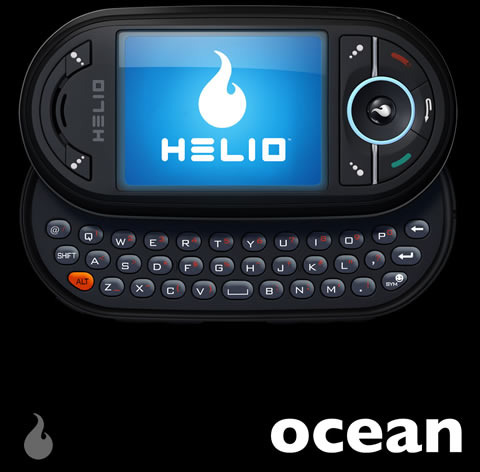 A dedicated chip for handling music playback means you can eke fifteen hours of continuous audio from the media player, and of course there's support for your own tunes and those bought from Helio Music. If you're already signed up to an all-you-can-eat PlaysForSure subscription service like Yahoo! or Napster then you'll be pleased to hear Ocean can play those tracks too. Stereo Bluetooth means you can cut the cord and enjoy your music wirelessly, and downloading fresh material is fast thanks to Ev-do.
So far, so awesome; but all those features aren't worth a soapy trout if the interface isn't up to scratch. Thankfully Helio have completely rejigged the UI to suit both portrait and landscape orientations of the new display, and preliminary feedback from our oh-so-fussy sources tell us that it's every bit as user-friendly as you'd hope. Integration between apps is tighter than the North Korean border, with contact lists tied into each of the IM services for "presence detection" and instant address book search direct from the idle screen.
Traditionally convoluted web-searching is made indecently simple; flick out the keyboard and start typing, direct from the idle screen. Ocean automatically searches Yahoo!, Google, Wikipedia and any other provider you choose, serving results up in a tabbed interface together with local results tied into your GPS location. Meanwhile, the single messaging hub brings together email, SMS, MMS and IM in one dashboard, and Ocean is clever enough to automatically decide on message format depending on recipient and whether pictures or video are attached. Support for multi-tasking means you can still browse the net while listening to music, and with up to 5.1hrs talk-time it doesn't fall short when it comes to basic phone duties either.

It's an awesome handset, and you can well believe it when Helio say that not only is Ocean the device the company was born to offer, but that it was in development even before the company was founded. If there's still a part of you hankering after the iPhone, then maybe the price will convince you otherwise; Ocean will drop this coming Spring with a MRSP of $295. Honestly, I'm considering emigrating to the US just to sign a cellphone contract.
Rest assured that SlashGear will bring you a full hands-on report just as soon as demo models are available.