Helio launch music downloads, reveal impressive performance figures

Our appreciation for Helio has been thinly veiled here on SlashGear – it's great to see an operator in the US actually innovating rather than playing catch-up to services that've been available elsewhere in the world for what seems like eons – and yet with competitors like Cingular beginning to branch out into MySpace, previously a Helio-only domain, the future of the MVNO looked potentially shaky.  Still, the best way for them to compete is to carry on developing good services, and that's what they seem to have done today with the announcement of Helio Music.
On-phone music download services aren't new, but easy-to-use and fairly priced ones are few and far between.  Helio are obviously trying to occupy that ground.
"Helio Music is a throwback to the corner record shop, combining great selection with a music-loving staff that can help you quickly find what you're looking for, and a comfortable environment where it's fun to just browse and discover" Sky Dayton, Helio CEO
A growing library containing artists from Universal Music Group, Warner Music Group, Sony BMG, and EMI Music, complete with artist bios, images, preview songs and community recommendations as well as full search options.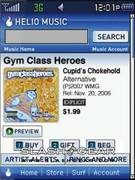 It's also categorised into genres, top songs and new releases, and users can subscribe to individual artists to get an SMS message when new content is available.  Full tracks can be downloaded over the 3G network for $1.99 each (or on a computer for $0.99, when the PC version of Helio Music launches in the Spring, and transferred via USB), while ringtones, music videos and video-ringtones are also available direct from the artist's page.  Tracks bought over-the-air will automatically download in the PC application.
Content sharing features – that Helio call "gift and beg" – allow you to request tracks from friends or buy downloads for someone else, and there's a strong element of content recommendation and feedback on music rather than everything being pushed as The Next Big Thing!  If you really want to advertise your tastes and promote a track, Helio are offering personalised call tones, called AnswerRings, which allows you to replace the usual dial-tone with audio of your choosing.  The service costs $0.99 a month, and you can pick different audio for different times of the day, individual callers or caller groups and even special occasions.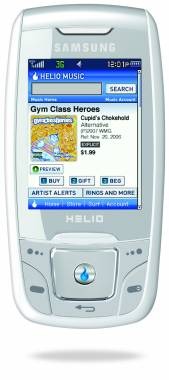 Helio has also given a preview of their growth and usage figures, which make for reassuring reading for anyone doubting the MVNO's position in the market.  They expect to pass 100,000 post-paid users by early Q2 of 2007, less than 10 months after marketing began, and average monthly revenue per-user is more than $100, comfortably exceeding the industry average.  That figure includes an estimated 25% monthly ARPU from data services, three-times the industry average, as well as on average over 400 text messages a month. 
MySpace Mobile is used by over 70% of Helio subscribers, with general WAP usage at over 85%; more than 80% Helio Drift owners have downloaded the GPS-enabled Google Maps and 70% the location-aware Buddy Beacon.  Despite not currently having a QWERTY phone in their catalogue, instant messaging is used by around 40% of subscribers, a figure that's three-times and the market leader and five-times the industry average.
With the launch of Helio's dedicated MySpace Mobile v.2 app coming soon, together with a bevy of new functionality yet to be officially announced, it's fair to say that they remain the ones to watch in the industry.  I'll leave the final word to the marvellously-named Sky Dayton:
"The wireless market today is dominated by generalists trying to be all things to all people, but people aren't all the same.  As we have seen in industry after industry, specialized brands will rise up to serve specific needs, and since mobile is now so important to our lives, we think it will happen in the wireless industry in a big way"Helio