Helio Dual-Slider Messenger handset leaked on FCC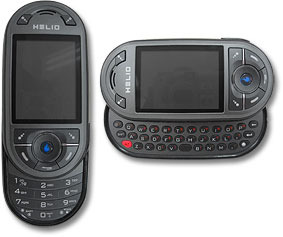 I've got a lot of love for Helio, and even more now with this SICK QWERTY-ready messenger handset (just need to remind myself not to call it a phone!).
While the official name is still unknown, it's internally being called Pantech PN-810. The phone sports a similar design to Samsung's F520 which – a dual slider. So basically when sliding the top layer up, in landscape view reveals a QWERY keyboard. And while in portrait view, sliding the top layer up reveals the number keypad. This is a very nifty design; and it's about damn time Helio offers something this cool!
So what are the specs you can expect on this bad boy? First of all, EV-DO radio, 2.1-megapixel camera with built-in flash, and a 260k TFT LCD.
Dual-Sliding Messenger Phone for Helio Spotted on FCC Site [PhoneScoop]