HeLi-on packable solar panel keeps you charged outdoors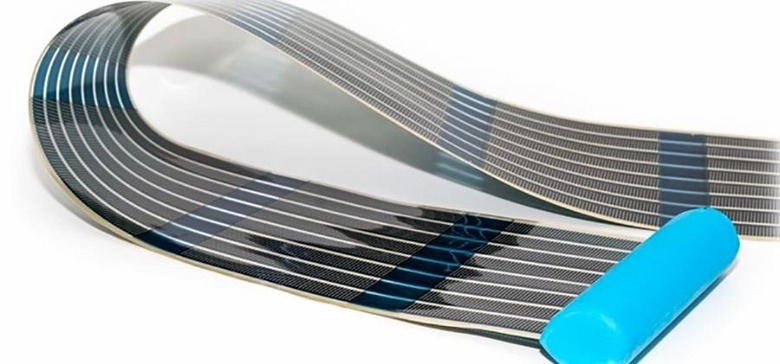 It doesn't matter if you are camping at 12,000 feet in the mountains or laying by the pool reading a book on your Kindle; at some point, most of us will need power for our gadgets in a place where there is no outlet. A new solar panel system has debuted that can create power for your devices using noting but sunlight. The device is called the HeLi-on and claims to be the world's most compact solar panel.
The panel is not a typical square or rectangle design, this one is a long ribbon with a blue container that stays attached to one end. The flexible panel pulls out of that container when you need to generate power and rolls back up into the container when you are done.

The result is a very compact device that can easily be slipped into a pocket. Three components are integrated into the small HeLi-on charger including the solar panel itself, battery bank for storing power generated, and electronics to control the works.
The end of the device has a USB port built in for tapping into the power needed to charge your device. When your smartphone is connected to the USB port you can completely recharge your device in 2-3 hours. You can directly charge your device using solar power when the internal battery of the HeLi-on is dead. It is on Kickstarter seeking right at $72,000 and as raised over $107,000 so far with 36 days to go. A pledge of $90 or more will get you one charger with shipping estimated for July 2016.
SOURCE: Kickstarter