Heatbuff is a small infrared keyboard finger warmer for gamers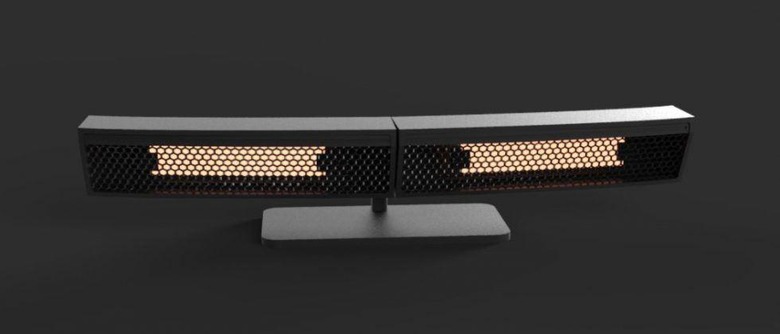 If you tend to play PC games in a cold house, a new Kickstarter campaign has the perfect solution for your no-doubt cold fingers: a small infrared heater that is positioned over a keyboard to keep your fingers warm while gaming. Called Heatbuff, this small contraption looks somewhat like a pair of long, narrow headlights, only with a warm glow that indicates there's warmth nearby. And no, says the company, it won't make your keyboard hot.
Heatbuff, according to Envavo, the company behind it, is designed to improve PC gamers' performance by keeping their fingers warm. It's a simple concept, perhaps one that is welcomed during these cold winter months. The heater is said to feature 'no-burn technology,' using infrared to produce heat that is piped directly over one's keyboard.

The angles of the heater can be customized to the user's needs; as well, the heater doesn't produce noise and can be folded up for easy transport or storage. Of course, the heater could work just as well for office workers who wish their company would turn the heat up a couple clicks. Being low-energy, it also may help save electricity costs by allowing the ambient temperature to stay lower while gaming.
The company is seeking funding on the crowdfunding platform Kickstarter, where it has raised more than double its approximate $11,000 goal with 20 days remaining in the campaign. Those interested can pledge at least $71 USD to get the Kickstarter Special version of Heatbuff, which is expected to ship this upcoming December.
SOURCE: Kickstarter