HDI demo 100-inch 3D 1080p laser TV [Video]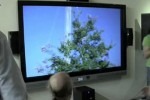 There are so many awesome buzzwords in HDI's new TV, we almost don't know where to begin.  The Los Gatos startup has created a 100-inch 3D HDTV that's capable of showing 1080p content using lasers, and according to Chief Technical Officer Edmund Sandberg the speed of the system – over 1,000fps – means that the display doesn't flicker.
Video after the cut
The lasers are installed in a custom module, which combines 1W red, green and blue units, and paired with LCoS panels from Microdisplay; together, they're good enough for 300 nits of brightness and a 1,000:1 contrast ratio.  Overall power consumption is said to be around 150W.
There's no word on pricing nor availability estimates for the HDI display, but given the various technologies they're using we can't imagine it'll be a cheap home theater setup.  Still, if you're desperate to reach out and touch your favorite film star, and not get a headache while you do so, you could always sell organs until you have enough cash.
allowscriptaccess="always" allowfullscreen="true"
src="http://cdn.abclocal.go.com/static/flash/embeddedPlayer/swf/otvEmLoader.swf?version=&station=kgo&section=&mediaId=7013481&cdnRoot=http://cdn.abclocal.go.com&webRoot=http://abclocal.go.com&site=">
[via OLED-Display.info]