HBO Now launches on Xbox One
The number of devices on which you can watch HBO Now has expanded, with support arriving on the Xbox One. As with other devices on which it is supported, HBO Now on Xbox One allows console owners to watch HBO's content without a separate TV package, giving Game of Thrones fans incentive to catch up on the series through legitimate channels rather than contributing to record-breaking piracy numbers.
HBO Now, not to be confused with HBO Go, is aimed directly at cord-cutters who don't have a cable subscription and aren't interested in signing up. Through the service, subscribers get access to HBO's original shows, not just Game of Thrones, both past and present. This include The Wire, Sex and the City, True Detective, Silicon Valley, and more.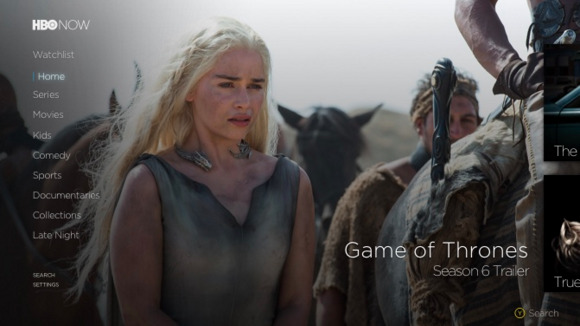 The move was a welcomed one on HBO's part, and no doubt was encouraged by the massive number of Game of Thrones episodes that were being pirated. Networks like HBO have had to increasingly adjust their business models in light of changes in how consumers watch content (mobile devices are the preferred method for many), and find new ways to draw in younger audiences who are largely opting out of — or never signing up for — traditional cable services.
Subscribers who use HBO Now with the Xbox One will be able to control the content using Kinect, assuming they have one. Say a favorite show, for example, to pull it up, then wave your hand to scroll through the episodes and other content. HBO Now costs $14.99/month; a trial is available for those who have never used it before.
SOURCE: Xbox