Haunting time-lapse inside 1WTC elevator shows panoramic evolution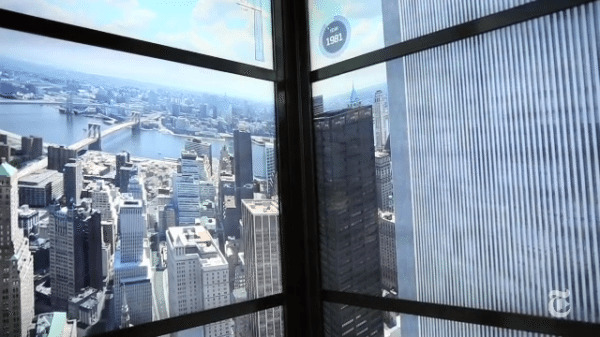 The World Trade Centers in New York will forever be a historic and painful part of history, especially in the US. Its destruction and the lives that were lost have become a sore topic in any conversation or endeavor. That might be the hard lesson that company Legends Hospitality might learn once the One World Observatory on top of 1 World Trade Center opens. Why? Because its elevator ride to the 104th floor includes a 3D time-lapse video of the development of Manhattan's landscape in the past 515 years, which inevitably also shows the original tower come into view and fade into history.
On face value, it is a beautiful idea and well-executed animation. riders from the ground floor going to the soon to open observatory at the top will be treated to a 47-second visual history of the evolution of Manhattan's skyline, at least the tip that the current towers face. As a history lesson and example of visual artistry, it is by all means an achievement. Technologically speaking, it is also quite impressive, with the video played over nine 75-inch HD monitors arranged like windows inside the elevator cab.
The controversy might come in when the time lapse passes through the time when the Twin Towers still stood. For about four seconds, riders will see the now iconic pinstripes of the building before it fades from view, like a ghost that would undoubtedly sends shivers down anyone's spines when remembering that ill-fated day in 2001. David W. Checketts, chief executive of Legends Hospitality, who was commissioned by the Port Authority of both New York and New Jersey to operate the observatory, believes things couldn't be otherwise.
Checketts believes that it would actually be even more insulting if they didn't acknowledge the existence and eventual disappearance of the towers in their time-lapse. Painful as it was, it is a key part of human history, of US history, and of New York. Having it fade in and out was the most respectful option, he says.
Be that as it may, there will definitely be some dissenting voices who will find that short, four-second clip to be almost sacrilegious, enough to detract from the rest of the tribute to history and mankind's technological and architectural legacy.
The One World Observatory will open May 29.
SOURCE: New York Times