Hasselblad X1D "4116 edition" and V1D 4116 concept celebrate brand's 75th anniversary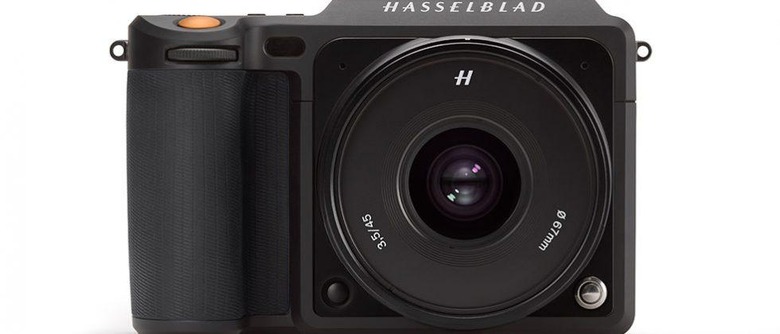 As part of the celebration of its 75th anniversary, Hasselblad has rolled out a new medium format digital camera called the X1D "4116 edition" that is described as the next phase of the world's first compact mirrorless medium format camera. This X1D camera first launched in June and is less than half the weight of a normal digital medium format camera and the 4116 edition is a new spin on that original camera.
The lightweight and compact size makes it easier to handle and it weighs in at 725g and supports HD video, WiFi, and integrated GPS. The "4116" edition of this camera is a special all-black version with an extended warranty, leather hand strap, XCD 45mm lens, and a unique 4116 edition box.
The more interesting camera in the announcement is the V1D 4116 Concept and it was created to help the brand find new ways of designing innovative cameras for the future. The camera has a square format 75MP design that was inspired by the classic Hasselblad V Camera. The camera body is a black box machined out of aluminum that has fixings for modules on four sides.
The top and back surfaces can hold modules or displays, viewfinders, and holders for accessories. The left and right surfaces have round fixings for controls and grips. Since the V1D is modular, it allows left-handed photographers to configure the camera ideally for use. A new 30mm lens has also been unveiled that is part of a new family of autofocus lenses. The XCD 30mm lens supports a wide range of shutter speeds and full flash synchronization up to 1/2000 second. XCD lenses in 30mm, 45mm, and 90mm are now available along with all 12 HC/HCD lenses.
"The success of the X1D has far exceed our expectations and we are delighted with the overwhelmingly positive feedback we've received since the reveal in June. The X1D '4116 edition' is a stylish evolution of the medium format camera and we are very excited to be introducing it into the '4116 collection'," said Perry Oosting, Hasselblad CEO.