Hasbro reveals NERF Soldier 76 Blaster and wearable visor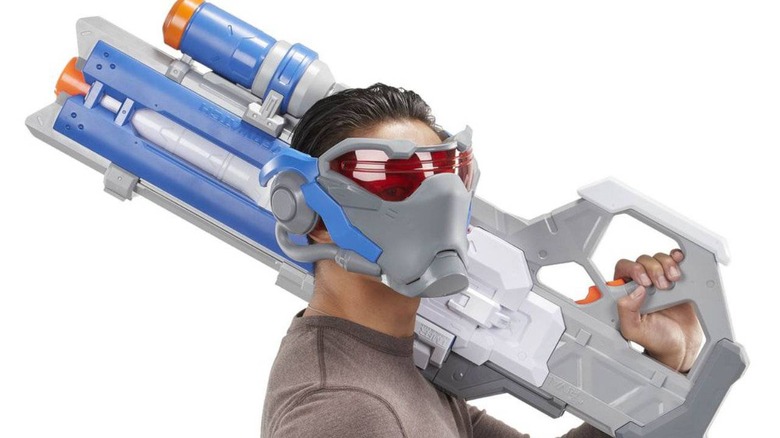 Hasbro is expanding its lineup of Blaster products based on weapons from popular video games. The company has unveiled the NERF Overwatch Soldier 76 Blaster, which is styled as the primary weapon wielded by Overwatch's Solider 76 character. Joining the Blaster is a wearable visor resembling the one donned by the video game solider.
Hasbro has released a large number of Hasbro items, including previous toy firearms styled after the futuristic weapons in Overwatch. At present, Hasbro already offers the Reaper Collection Pack, which includes a Reaper mask and dual foam-shooting Blasters. Joining that is the hot pink D.Va Blaster featuring the character's iconic bunny chain combined with a recoil action and 90 fps velocity.
As well, Hasbro already offers the McCree replica revolver Blaster alongside a die cast badge; this weapon's unique element includes a swing-open barrel with a spinning spur just like a real rifle. Finally, there's also the considerably smaller NERF MicroShots foam dart toy based on the character's Torbjorn's weapon.
The toy company is expanding this lineup with a new — and quite gigantic — NERF Blaster inspired by Soldier 76's rifle. This product is unique, however, in that it is a GameStop exclusive. Overwatch fans who want to expand their collection can pre-order this item from the retailer's website for $129.99 USD.
According to Hasbro, the NERF Blaster has a 30-dart capacity and is fully motorized with rapid-fire capabilities. The Blaster shoots foam darts at 90 feet per second, includes illuminated lights, and issues an recoil action with each shot. The targeting visor is simply a stylish replica of the in-game element.