Hasbro opens doors to 3D-printed Fan Art sales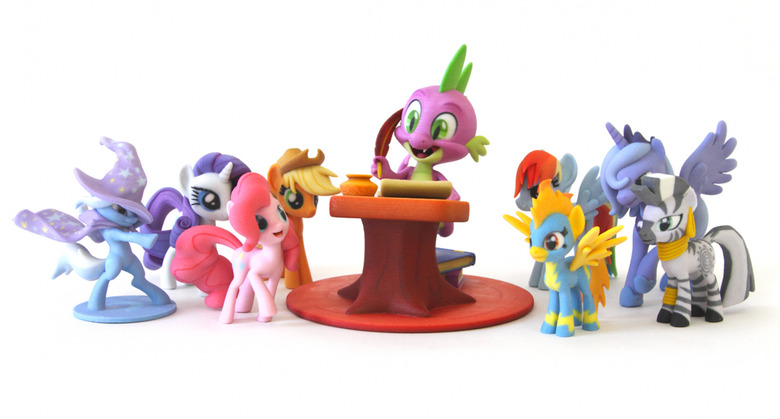 In an initiative called "SuperFanArt", Hasbro has teamed up with Shapeways to create a portal through which fans of Hasbro's characters can create and sell their own 3D-printed toys. The first line to have its license opened to fans through this program is My Little Pony. This should appeal to some of the stranger fans out in the fan universe – but Hasbro's collection has some far larger names in the mix as well.
Below you'll find a list of Hasbro brands of toys which could be opened to 3D-printed toy sales in the future. These items aren't confirmed for this program as of yet, but we'd be pumped for the whole collection!
• G.I. Joe
• Sesame Street
• Jurassic Park
• Mr. Potato Head
• Transformers
• Tinkertoy
• Star Wars
Hasbro also owns the following subsidiaries. While it'd not quite be as simple a process to license toys under these brands as the main Hasbro line, the possibilities are still there.
• Parker Brothers
• Tonka
• Wizards of the Coast
The Wizards of the Coast brand creates the Magic: The Gathering collectable card game as well as Dungeons & Dragons – both the game and pre-painted plastic miniatures. While Wizards of the Coast creates the Pokemon card game, they do not own the rights to the toy line.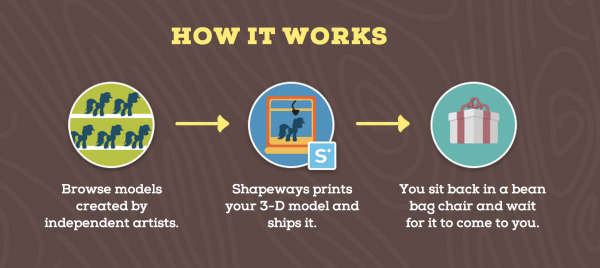 Hasbro worked with Pokemon toys between 1998 and 2005 but no longer retains the rights to create characters from the brand. We'll just have to use this to leverage Nintendo's will to create something similar, that's all!
Shapeways makes clear that this is "the first time a global brand has opened up their IP to enable passionate fans to co-create products." So get your artwork out there – SuperFanArt is ready to roll now!