Harman Kardon Launches New HKTS 20 And HKTS 30 5.1 Speaker Systems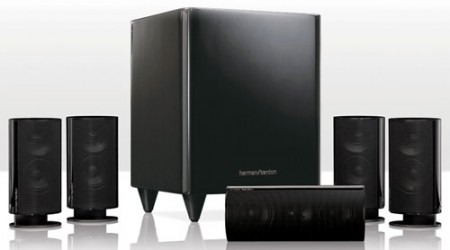 When it comes time to watch a movie I bet lots of you are like me. We want to hear and feel the explosions during those cool action scenes. Harman Kardon has announced a couple new home theater speaker systems that promise impressive sound for the home theater fan.
The two systems are the HKTS 20 and the HKTS 30. They share most of the same features including a 200W powered 8-inch subwoofer. All of the speakers in the systems are clad in glossy black and they use constant directivity waveguide tweeters for higher output. Both of the systems are also ready for watching 3D TV.
Other common features include four voice-matched, two-way loud speakers, a voice-matched, dual-driver center channel speaker, video shielding on all speakers, and a music-sense trigger to turn the sub on and off automatically. The difference in the two systems is that the HKTS 30 uses dual 75mm midrange configuration and the HKTS 20 has a single 75mm midrange. Both sets will ship in April with the 20 selling for $799 and the 30 going for $999.