Harman Kardon GO + Play next-gen speaker sports steel handle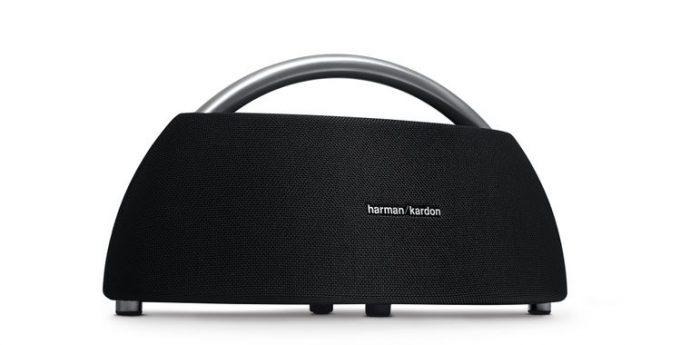 Harman Kardon has taken the wraps off its next-generation GO + Play, a wireless speaker that supports three devices at once and includes a built-in handle for easily toting it around. The company boasts 'premium' materials in its construction, including stainless steel for the handle and fabric for the finish. The speaker will be launching in May for $299 USD with a bunch of other features rounding it out.
The newest GO + Play speaker can be connected to up to three devices at once, making it easy to choose which one you want to stream from at any given time. There's a built-in rechargeable Lithium-ion battery for up to 5 hours of audio playback on a charge; it can also be used to charge a smartphone or tablet that is connected over USB.
The new model also features Wireless Dual Sound for connecting together two Harman Kardon speakers for dual audio, or streaming music to two rooms at once. The speaker also has a dual-microphone conference system for taking calls; it has both noise and echo cancellation to help neutralize disruptive background and ambient noises.
Harman's head of portables Andy Tsui said:
For more than 60 years, the Harman Kardon brand has been admired for its sleek, elegant aesthetic and uncompromising sound, essentially turning personal audio into true works of art. The Harman Kardon GO + Play delivers on our promise of powerful sound in a pristine, wireless and stylish package. It is a natural and beautiful addition to any room in the home, office or on the go. With rich tones and powerful bass, the Bluetooth speaker saturates any environment with beautiful sound.
SOURCE: Harman Kardon