Hantech Tablo unboxing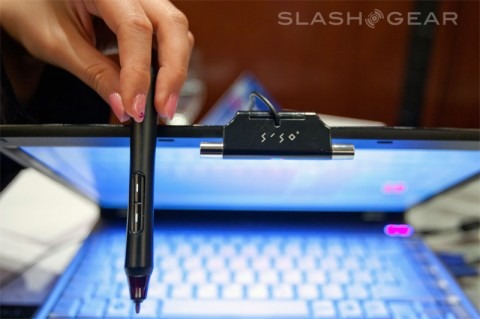 The Hantech Siso Tablo is a handy device that attaches to your laptop screen and turns it into a tablet PC. It took me 5 minutes to set up and install the software, and I was up in running with no trouble at all. The Tablo runs for $99 MSRP, and is a solid investment for students, business users, or artists.
The Tablo uses the sensor to determine the location of the pen relative to the display much like the Nintendo Wii, and allows you to write for hand recognition or interaction with your computer either through writing on the screen, or in the air in front of it. You can use the Tablo in Windows, MS Office, and Adobe Illustrator and Photoshop.  It becomes sort of an inexpensive Wacom tablet and there's no excuse not to get a Tablo if you're in the market for a device with these functionalities.
Check out Hantech's site for a full list of supported applications and where to buy. We'll have a full review up in a few days.
[vms d7d9bf74191e006d8e24]