Hanspree ST251 and ST281 1080p HDTVs arrive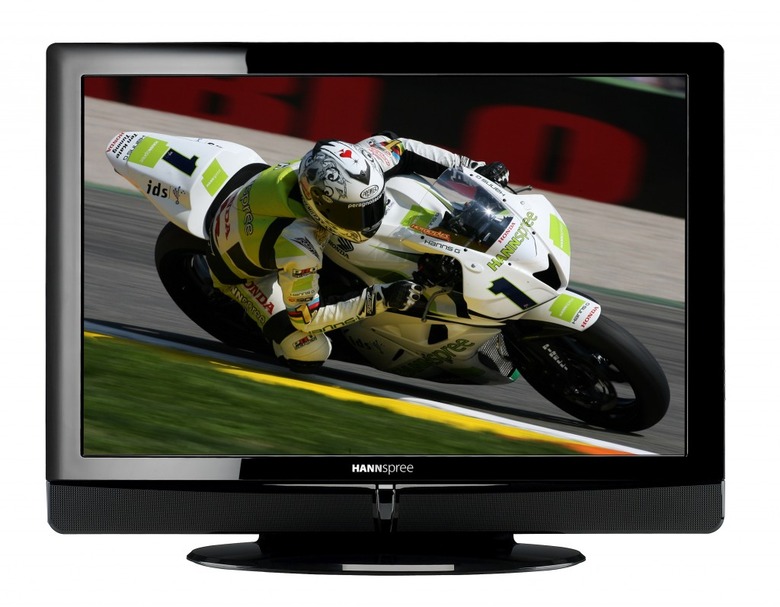 Hannspree have announced a new range of 1080p-capable displays, the ST-series, offering entry-level sizing with budget price tags.  The ST251 and ST281 are 25-inch and 28-inch HDTVs respectively, with 10,000:1 dynamic contrast and two HDMI ports apiece.
Both sets are available in the UK now, priced at £269 ($449) for the 25-inch ST251 and £329 ($549) for the 28-inch ST281.  Hannspree promise larger models in the ST-series later in the year.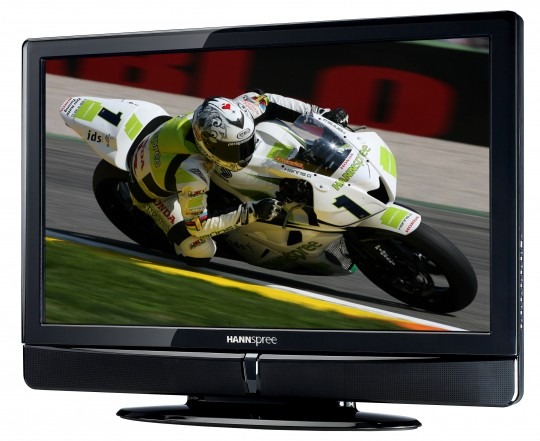 Press Release:
HANNspree unveils the new ST series of HD TVs

A whole new level of audio visual entertainment from HANNspree

Hemel Hempstead, 10th August 2009. Consumer electronics specialist, HANNspree, today unveils its new line of HD TVs. The new ST series, which boasts ultra stylish, minimalistic design and breathtaking audio visual performance, promises to deliver a whole new level of entertainment from HANNspree.

Top 5 Must Know Features of the new ST series:

1) Full 1080P HD Resolutions

2) X-Contrast and X-Celerate Technologies

3) Multiple Input Options

4) Multiple Aspect Ratio Support

5) 10Watt Advanced Audio System

The new HANNspree ST series of TVs includes Full HD 1080P resolutions and features HANNspree's new X-Celerate and X-Contrast technologies. Developed to dramatically improve 3D rendering and the fluidity of dynamic images, HANNspree's X-Celerate technology reduces response time to ensure sharper images without motion blur, whilst HANNspree's exclusive X-Contrast technology delivers 10000:1 ultra high dynamic contrast by providing darker black colour and brighter white colour. Picture quality is also enhanced by three key performance features; built-in 3D Comb-Filter and 3D Deinterlace technology which filters out scattered colour signal to produce more saturated colour and life-life image quality, Digital Noise Reduction to improve the overall clarity and sharpness of a picture, and built-in 3.2:2.2 Pull-down Processing which corrects errors in frame rates to ensure smooth, flicker free pictures.

The new ST TVs also feature Multiple Aspect Ratio Support. To avoid any image distortion, the ST series supports a variety of display options such as; Full, Wide, Panarama, Zoom, Subtitle, Auto and Normal views. For example, using the intuitive interface, it is simple to transform an image which may appear stretched in the standard 16:9 widescreen aspect ratio into the perfect 4:3 aspect ratio. This ensures different images (especially from different input devices) are displayed for the optimum viewing experience.

Also taking care of the plethora of input devices your TV plays host to are multiple input options. The ST TVs are 1.3 HDMI compatible and include two HDMI ports to deliver the best HD image quality from the latest HDMI equipped devices such as Blu-Ray players, games consoles and HD camcorders. The series also include the more traditional SCART connectivity, Component and Composite inputs, as well as, VGA support allowing a PC to be hooked-up to transform the TVs into PC monitors for the ultimate media centre set up.

The new ST series also boasts a 10Watt advanced audio system which delivers superior sound quality and provides users with intuitive personalised audio settings (Standard/Music/Movie/Speech/User) for a powerful stereo home studio experience.

The first TVs to launch from the new HANNSpree ST series will be the ST251 and the ST281, 25" and 28" respectively. The new ST251 and ST281 have been designed to enhance contemporary surroundings. Radiating exclusive quality, both feature a sleek, stylish, modern look with softening curves, mirror black bezels and an ultra thin profile giving a truly minimalistic impression (ideal for wall mounting). Larger ST TV sizes will launch later in the year.

The new ST251 and ST281 from HANNspree are available now from www.misco.co.uk and are supplied with a 2yr Collect and Return warranty.

The new ST range will be on display at IFA 2009. For full details on HANNspree's presence at IFA 2009 visit: http://www.theprroom.com/NEWS/HANNS_IFA09.html

-ENDS-

Additional Information

Main Specifications:

ST251

Display Size: 25" (24.6" Viewable)

Resolution: 1920 x 1080 (PC Mode 1920 x 1080)

Aspect Ratio: 16:9

Brightness: 300cd/m2

Contrast Ratio: 10000:1 (X-Contrast)

Response Time: 2ms (GtG)

Viewing Angles: H/V 170º/160º

Speakers: 2x 10W

Inputs: Composite, Component, 2x HDMI, VGA, 2x Scart

MHEG5

Teletext: 500 Pages

2yr Collect and Return Warranty

RRP: £269 inc. VAT

ST281

Display Size: 28" (27.5" Viewable)

Resolution: 1920 x 1200 (PC Mode 1280 x 1024)

Aspect Ratio: 16:10

Brightness: 400cd/m2

Contrast Ratio: 10000:1 (X-Contrast)

Response Time: 5ms

Viewing Angles: H/V 170º/160º

Speakers: 2x 10W

Inputs: Composite, Component, 2x HDMI, VGA, 2x Scart

MHEG5

Teletext: 500 Pages

2yr Collect and Return Warranty

RRP: £329 inc. VAT