Hangouts update brings stickers, location awareness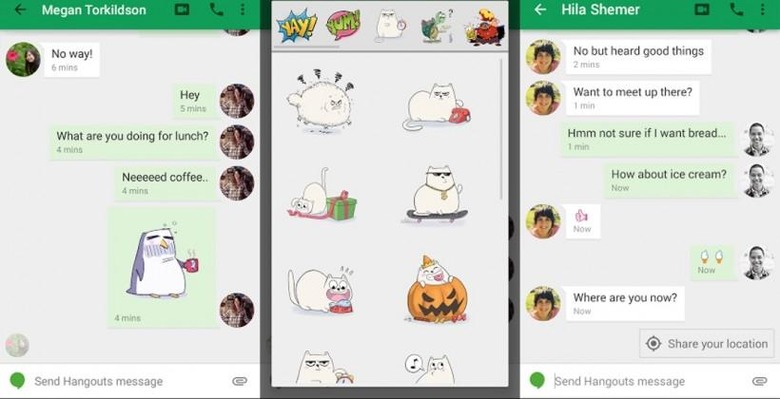 Last night, at least one member of the Google Hangouts team posted to their Google+ social feed that sleep was going to be tough, and that we'd see an update for Hangouts today. The Android world buzzed about what that meant; were we finally getting full Google Voice integration? Was Hangouts about to be less power consumptive? Nope, we got stickers — and last-seen timestamps along with location sharing. There are also filters for video chat, where you can mask yourself in sepia, black and white, or vignette, among other filters.
Stickers will come immediately, with 16 packs being offered on launch. They're really little more than next-level emoticons, and popular on other chat platforms. Now, "happy birthday" may also have an odd little character popping out of a cake.
Location sharing is a handy feature that understands when someone asks where you are, and offers you the chance to share a map of your whereabouts with them. It was a feature kind-of available in Maps; this just streamlined the sharing process a lot.
Google is also making Hangouts a bit more friendly to use, as a last-seen timestamp is now included so you're not constantly wondering if you're being ignored, or they just fell asleep (which the team cautions will take a few weeks to roll out completely, so be patient). Phone number confirmation also makes discovering people to chat with easier.
Aside from stickers, Hangouts is overall a touch more contextual, and Google is promising more to come in that regard. They're pretty tight-lipped about what Hangouts can become, but being a lot more personal seems to be their missive. The update is rolling out incrementally to Android users, with no other platforms currently being discussed for these new features.
Source: Google