Hands-on with Mad Catz's polymorphic L.Y.N.X. controller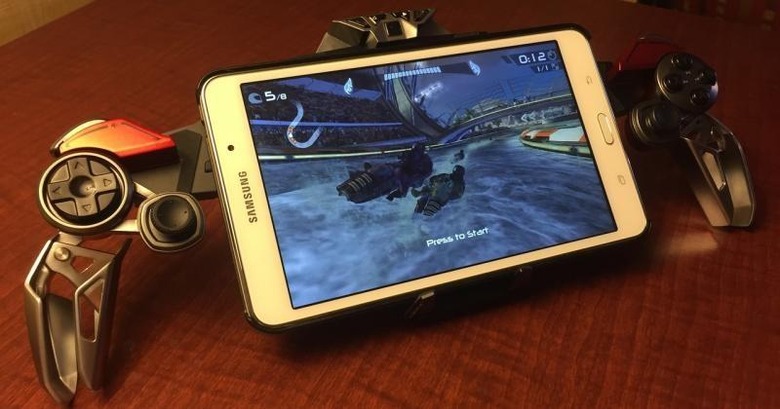 This day definitely has a lot of gaming in it, with a bunch of announcement from the likes of Razer taking up our CES 2015 attention. Gaming accessory maker Mad Catz is definitely not going to be left behind. We go hands on with its new L.Y.N.X. Bluetooth controller that can support devices of almost any size, up to 7 inches to be precise, but can still amazingly fit in your front pocket when not needed. Oh, and it can do a lot more than just let you play games.
The L.Y.N.X. looks more like a crab, one straight out of Michael Bay's vision of Transformers. Truth be told, it might as well be since it practically transforms into different shapes for different situations. The controller itself is divided into three parts: a left wing, a right wing, and the central controller. These parts can be detached and attached to a tablet of up to 7 inches in size, with an included tablet stand in case you get tired of holding it up with both hands. Of course, It can also hold smartphones in its cradle, letting you game on the go with ease and comfort. And when not in use, it folds up into a neat little package small enough to almost fit anywhere.
But the L.Y.N.X. controls more than just your games. A mouse sensor pad and multimedia controls at the top of the gaming pad lets you use it for more traditional controls. An included keyboard module also makes short work of typing in text when needed. Really, this Mad Catz controller tries to be the one controller that rules them all.
Our hands-on experience with the L.Y.N.X. left us with the impression of a controller that felt light yet solid, two things you want to hear in a portable controller such as this. The controller connects wirelessly via Bluetooth but cable are also included for connecting to a larger screen. While all of that may sound fine and dandy, Mad Catz isn't exactly making it easy to get one of these. For all its features, the L.Y.N.X. carries around a $300 price tag, which might be too steep a cost for a gaming accessory.