Hands-on video shows off Galaxy S IV test device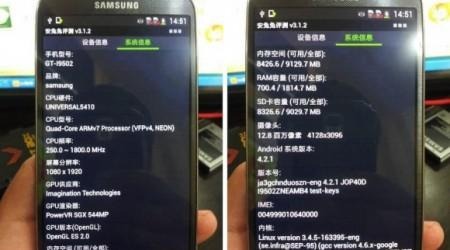 This week is when we'll find out everything we ever wanted to know about the Samsung Galaxy S IV smartphone. The launch event is set to happen in only two days. While Thursday is the day when the smartphone will go official, rumors continue to circulate as fans clamor for more information.
Yesterday some images of a smartphone that looks more like the Galaxy Note II than the Galaxy S IV turned up. While on the outside the phone didn't look like what we expected, the hardware on the inside lined up with rumors very nicely. That fact led us to believe that we may be looking at a Samsung test mule.
While we had several images of this test device yesterday, we didn't have the hands-on video. The hands-on video that has turned up appears to be from the same person who took the images we showed you yesterday. In the hands-on video, the person shows you the battery and then spends a little time fiddling with the phone on video.
Considering the soundtrack, it seems like the guy forgot to turn off the TV which is rather annoying. Still, you can see the user interface and a few the applications that are running on the phone. It looks like the device responds quickly and this video will only help stoke the geek lust of all the people out there waiting to get their hands on the S IV. Stay tuned, we will be on hand at the Samsung Unpacked event and will bring you all the details on the S IV as they are unveiled.
[via SammyHub]