Hammacher Schlemmer offers RC Bald Eagle to terrorize your neighborhood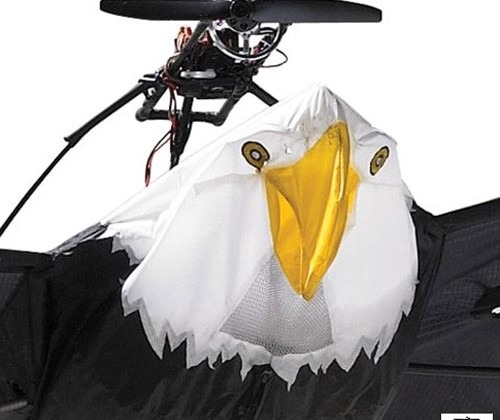 This is one of the coolest RC toys I have seen in a long time. The 9.5-foot wingspan flying machine looks like a Bald Eagle. This is the only Bald Eagle you can crash and play with without being arrested. Obviously with the thing selling at Hammacher Schlemmer you can bet it's crazy expensive.
The RC Bald Eagle sells for $499.95. For the price, you get the massive bald eagle that looks a lot like a kite with a propeller driven electric motor on its back. The engine and propeller has a multi-directional vector movement to allow the pilot to make agile turns and dives like the real Eagle can.
The wireless remote control is good for 100-feet from the bird and it has trim controls so you can get level flight. The bird is capable of loops and hovers when flying against the wind once you get used to the controls. The electric motor uses a rechargeable battery that is good for eight minutes of flying per 20-minute charge.