Halo 3: Recon announced; expected Fall 2009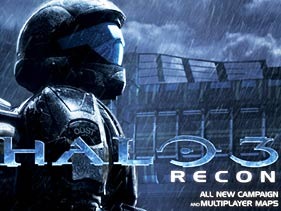 Microsoft announced the latest instalment of the popular Halo franchise, Halo 3: Recon, at a Japanese event today, promising the Xbox 360 game would hit shelves in the Fall of 2009.  In contrast to Halo 3, the Recon game will star an Orbital Drop Shock Trooper instead of Master Chief and document the events leading up to the previous title.  Bungie Studios, who were responsible for the first three titles in the franchise, are behind this latest instalment.
Check out the Halo 3: Recon trailer video after the cut
Microsoft describe Halo 3: Recon as a "standalone expansion" and promise "hours of new campaign excursions and multiplayer gameplay."  Action is based on Earth but apparently concentrates more on covert ops techniques than firepower: ""[while] the feel of this new chapter greatly resembles that of previous 'Halo' experiences, 'Halo 3: Recon' will require you to employ more elements of stealth and cunning than ever before."
New multiplayer Halo 3: Recon gameplay will also be supported, although details are scant.  We do know that new maps will be on offer, together with fresh items for the Forge multiplayer level-creation system supplied with Halo 3.
[via MTV]