Haier ibiza Rhapsody Sport: 8GB, WiFi & water-resistant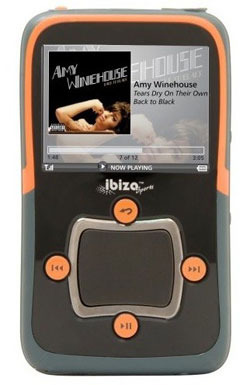 We may receive a commission on purchases made from links.
Haier have updated their ibiza Rhapsody PMP with a new, semi-rugged Sport version.  The audio and video capable PMP now comes with 4GB or 8GB of skip-proof flash storage, while still offering the WiFi, 2.5-inch color display and questionable styling of its 30GB HDD predecessor.  It can also connect to Rhapsody To Go, the music download service, to access new tracks.
A free 30-day trial to Rhapsody is included, offering unlimited track downloads, after which you can choose to subscribe, cancel, or move to a free plan that gives you up to 25 tracks per month or 25 Rhapsody channels.  There's also an FM radio and picture viewer.  Supported formats include AAC, MP3, WMA and WAV audio, JPEG and PNG images and MPEG-4, WMV, H 264, MPG, AVI and M4V video.
The Haier ibiza Rhapsody Sport PMP is available now.  The 4GB model is priced at $179, while the 8GB version comes in at $199.  They're "weatherproof" and "water resistant", though we'd assume that doesn't mean you can drop them into a river.
[via dapreview]