Gvido Dual-Screen E-Ink Music Sheet Gets An Unbelievable Price Tag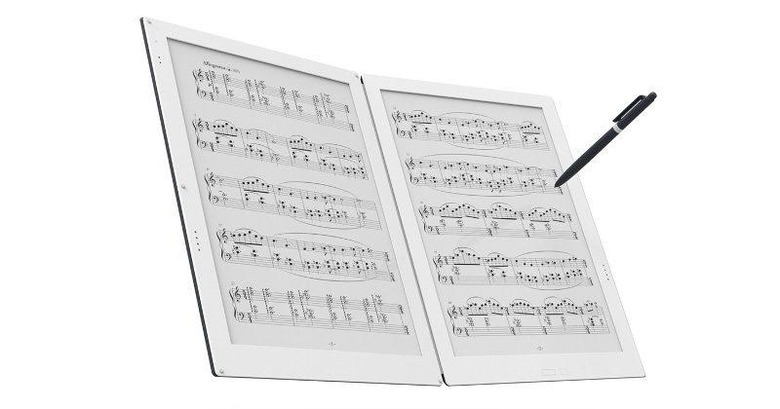 Ebook readers use e-paper displays for two reasons. First is the innate nature of such screens, which are easy on the eyes and batteries. Second is the cheaper costs of such components, which translate to a more affordable retail price. If you thought the latter would be true of the Gvido music sheet "tablet" and its two 13-inch e-ink screens, you'd be shocked to find out the truth. Because when the Gvido launches later this year, it will cost just as much as two 12.9-inch iPad Pros.
What is Gvido anyway? Announced last year, the device aims to appeal to musicians who have been far too stressed at having to physical turn the pages of their musical scores. It utilizes two e-ink screens that fold up like a book to emulate the look of paper music sheets but only requires a single quick tap to turn the page.
It does have some extra features as well, particular support for an electromagnetic stylus to make notes and corrections to the sheet, just like you would on real paper. Gvido will also be offering a cloud service for syncing and an online store for buying music sheets, though you can also use your own PDFs.
All of these can be yours starting September 20 this year for only $1,600. And that's not even including taxes. Yes, $1,600 for what is practically two oversized ebook readers that, to be fair, lets you scribble notes as you wish. $1,600 for a device that does nothing else but display PDFs in black and white but is too big to use as a bedtime reading device.
The Gvido isn't the only recent uber expensive but also uber limited e-ink device. Curiously, some of those seem to hail from Japan, similar to Gvido. Hopefully, however, it will not become a trend, lest we start seeing actually interesting and useful e-ink device toting inaccessible prices.
SOURCE: Gvido