2022 Ford Expedition Gallery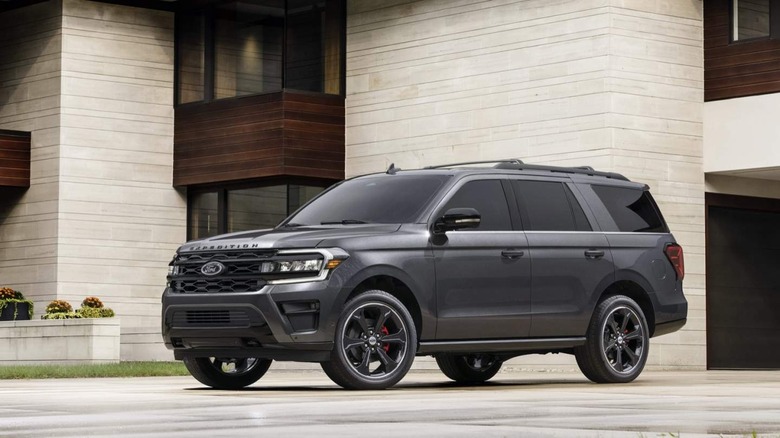 It's fair to say the Expedition has been a hit for Ford. Market share has almost tripled since the 2018 redesign; now, for the 2022 Expedition, Ford is tightening up the deal with more tech, more off-road talent, and some endearing new special edition trims. It's all in the name of making the Expedition more appealing to the millennial audience which is increasingly important to the full-sized SUV.
The outside styling gets tightened up, but it's the 2022 Expedition Timberline and Expedition Stealth Performance Edition where things get really interesting. The former is focused on pursuits off the beaten track, with unique 18-inch wheels, a performance-tuned 3.5L EcoBoost engine with 440hp and 510 lb-ft of torque, and a 2-speed transfer case. It also has Trail Turn Assist and a limited-slip rear differential.
The 2022 Expedition Stealth Performance, meanwhile, gets the same engine but a focus on on-road performance. That means a blacked-out body kit, 22-inch gloss black wheels, and sport-tuned suspension with CCD Active Shock Damping.
Inside, the Expedition can now be had with the 15.5-inch touchscreen and SYNC 4 as familiar from the latest Mustang Mach-E and F-150. There's also an optional B&O 22-speaker audio system, optional BlueCruise hands-free driver assistance, and a rear entertainment package with Fire TV.
2022 Ford Expedition Stealth Edition Performance Package:
2022 Ford Expedition Timberline Series:
2022 Ford Expedition Platinum: