Guitar Hero World Tour launches for mobile devices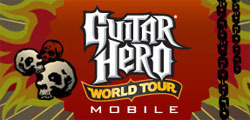 Music games seem to be everywhere these days. More specifically, Guitar Hero is absolutely everywhere, and now with the release of Guitar Hero World Tour, more people are gaining exposure to the game. And for those that love it, they'll be pleased to hear that they can now play it on their mobile phones.
You can get Guitar Hero World Tour mobile now on most major cell phone carriers and it will be released for Android next month. Within the game, you can play in multiplayer mode across networks and interact in real-time.
Included in the mobile version of Guitar Hero World Tour are 15 music tracks that can be played on the guitar or drums. Bonus songs will be added each month. You can expect tracks from Blondie, Sublime, Lenny Kravitz and Oasis in the initial release.
[via Slippery Brick]