Guitar Hero III: Legends of Rock - Seventeen new tracks announced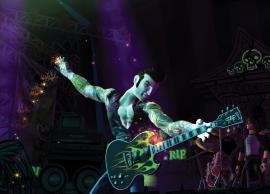 Yes, there has been a lot of coverage of Rock Band this week. However, we can't forget about the franchise that got me addicted to a plastic guitar. Activision has just released seventeen new tracks for Guitar Hero III: Legends of Rock. Hit the jump and check them out.
While a good bit of the surprise was spoiled by a leaked set list last month that appears to have been fairly accurate, we're still glad to see the official announcement of these tracks. The game is set to be released on October 28. You can bet that this game will rock every bit as much as the first two.
Same Old Song and Dance (by Aerosmith)
Helicopter (by Bloc Party)Stricken (by Disturbed)Monsters (by Matchbook Romance)Before I Forget (by Slipknot)Kool Thing (by Sonic Youth)When You Were Young (by The Killers)Devil Went Down to Georgia (as made famous by Charlie Daniels Band)Sunshine of Your Love (as made famous by Cream)Holiday in Cambodia (as made famous by Dead Kennedys)Cliffs of Dover (as made famous by Eric Johnson)Hit Me with Your Best Shot (as made famous by Pat Benetar)Black Magic Woman (as made famous by Santana)Story of My Life (as made famous by Social Distortion)Pride and Joy (as made famous by Stevie Ray Vaughn)The Seeker (as made famous by The Who)Black Sunshine (as made famous by White Zombie)