Guitar Hero '80s edition rumored for June or July release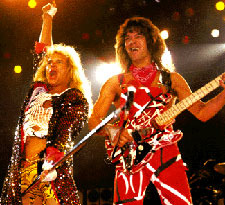 If you bought your Guitar Hero when it first came out, you're probably yearning for new tracks. When Guitar Hero II came out recently for the Xbox 360 we got a few new songs, but I know I'm ready for a new set of tracks.
GH3 is still months away, and who knows when they are going to release new downloadable content for the 360, they still have to get through re-releasing old tracks first. Luckily there is the promise of Guitar Hero '80s Edition on the horizon.
There's not been any official word on the game; it hasn't even been officially announced yet. But that hasn't slowed the rumor mill down one bit. Apparently Gamespot has it pegged for a June 4th release, while Gamefly and Amazon Canada have it slated to arrive on July 31st. Either way, it still gives you a little time to grow your hair out and find some tight pants. Though I might suggest re-thinking the tight pants idea.
Guitar Hero '80s edition in June — maybe July [via joystiq]