Guitar Hero 5, Band Hero and DJ Hero announced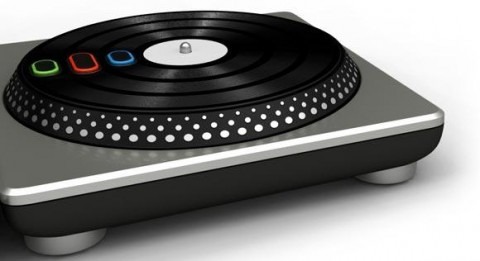 Fresh gaming news from Activision today, as the company confirms three new titles in the burgeoning Guitar Hero franchise.  Guitar Hero 5, Band Hero and DJ Hero will all launch this year; Activision have also released this render of the DJ Hero controller.
DJ Hero will use the turntable controller pictured above to remix hip-hop, R&B, Motown, electronica and dance tracks, racking up points along the way.  Meanwhile, Band Hero will try to push Guitar Hero-style gaming to a family audience, with an E10+ age rating and compatibility with guitar, drums, bass and microphone controller accessories.
As for Guitar Hero 5, that's set to be more of the same gameplay we're already used to, only with the ability to "drop in and out of songs and change band members, instruments and difficulty levels on the fly."  No specific release dates for the games have been confirmed. 
Press Release:
Guitar Hero(R) Announces Fall Lineup Featuring Groundbreaking DJ Hero(TM) Title and New Guitar Hero(R) 5 and Band Hero(TM) Games

–Innovative DJ Hero Game Expected To Transform How Consumers Engage with Music –New Guitar Hero 5, DJ Hero and Band Hero Expand the Category with Fun-to-Play Experiences and Innovative New Technologies and Features –Fall Slate Delivers Largest Variety of Music and Hottest Artists

SANTA MONICA, Calif., May 7, 2009 /PRNewswire-FirstCall via COMTEX News Network/ — Activision Publishing, Inc. (Nasdaq: ATVI) is set to once again revolutionize how consumers interact with music by releasing three new titles this fall – DJ Hero(TM), Guitar Hero(R) 5 and Band Hero(TM) – that will redefine the company's popular music gaming platform. The slate will transform the way consumers enjoy and engage with music by offering the largest variety of music genres, innovative technologies and new social entertainment experiences for existing fans and millions of new consumers who previously have not joined Guitar Hero's global community of fans.

– The company's groundbreaking DJ Hero expands Guitar Hero's

signature social gaming to all-new consumers with the addition of

diverse music genres including hip-hop, R&B, Motown, electronica and

dance. Introducing an all-new innovative turntable controller, DJ Hero

transforms players into DJs who rule the club scene by creating original

mixes of popular songs and music from the world's most exciting

artists and DJs.

– Letting fans continue to fulfill their rock fantasies, Guitar Hero 5

features the hottest rock and roll artists today as well as classic rock

bands and gives players an unprecedented level of control over the way

they play the game with the ability to drop in and out of songs and

change band members, instruments and difficulty levels on the fly.

– The franchises' first E10+ rated console game, Band Hero delivers

an exciting music collection featuring top-40 hits designed to expand

the appeal to a broad family audience who can play together on the

guitar, drums, bass and microphone and experience a new genre of music.

The game builds upon Guitar Hero's easy-to-play,

difficult-to-master signature gameplay and allows novice players and

expert fans to join together on their favorite songs.

"Guitar Hero has made music social again and has become one of the most popular ways to experience music," said Dan Rosensweig, President and Chief Executive Officer of the Guitar Hero franchise. "Today's fans enjoy a variety of music and are looking for more ways to engage with their favorite songs, artists and fellow fans. These games will let them listen, participate and socialize with music in ways they have never been able to before."
[via Joystiq]