gTar iPhone guitar lets anyone bust out a sweet riff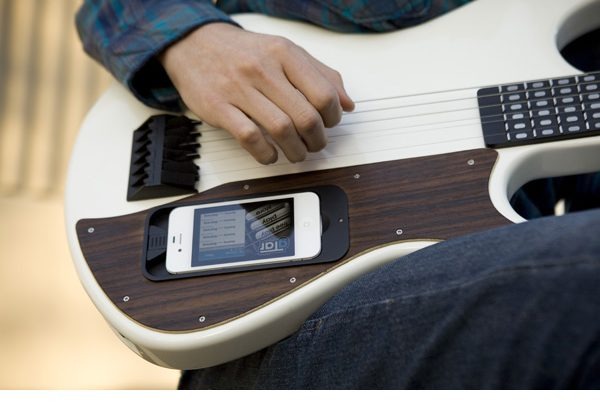 You've probably all picked up a guitar at least once and tried to play it, strumming away while trying to position your fingers and giving up rather quickly. A new Kickstarter project is hoping to create a guitar to help users learn how to play by leveraging the iPhone. The gTar features an iPhone dock at the base, and once the phone is plugged in, the app will will control the array of LEDs along the fretboard showing you where to place your fingers.
The guitar features three difficulty settings to help you play. Easy allows you to play just the strings, letting you get a better feel for the guitar while keeping an eye on the notes that need to be played. Medium moves things up a notch, requiring you to hit the notes and strum, but a feature called Smart Play keeps the rhythm going regardless of mistakes in order to encourage you to keep playing. Hard will display the correct notes, but Smart Play will be disabled, letting you play whatever you want.
The flexibility of the iPhone means you aren't restricted to guitar strings either. Accompanying tracks using drums and keyboards can also be applied, and you'll be able to tweak reverb, echo, and distortion levels. The guitar itself features a USB port, 1/4" line-out jack, and is powered by a 5,000mAh internal battery.
gTar has already surpassed its $100,000 goal, sitting at around $120,000 as of the time of writing. The first 200 backers were treated to a $350 early bird special, now sold out, while the next cheapest model is $399 for 500 users. Additional Kickstarter tiers add in goodies like t-shirts and stickers, although the $999 option allows you to send in your own design or color choices for a custom gTar. The project still has a long way to go, closing on June 25th, so there's plenty of time to get in on the ground floor.
[via Kickstarter]