GTA V's Every Bullet Counts mode only gives you two shots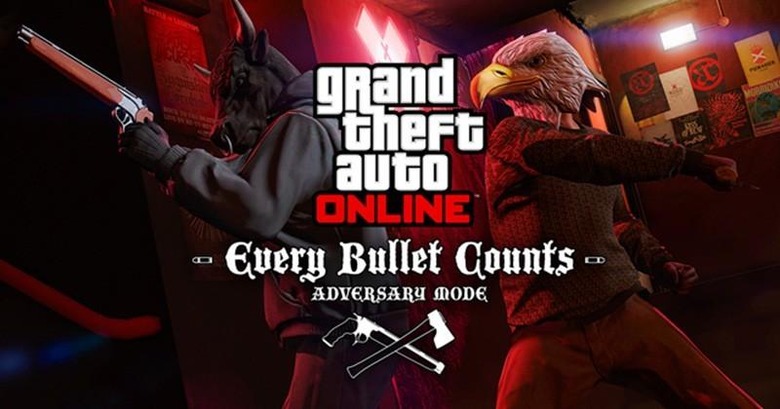 One of the great things about modern gaming is the fact that developers are able to continually update their games with new features and modes relatively easily. One developer that has been great about this is Rockstar, with GTA V. Just a couple of weeks ago they released a new football-themed adversary mode for free, and today, they've announced another.
Every Bullet Counts is a new adversary mode that keeps you on the move, and makes you think about every shot you take. The object of the mode is pretty simple. You just need to kill three other players. That's pretty easy, right? Well, the trouble is that you only spawn with a machete or hatchet, and a marksman pistol that has only two bullets. If you want to win, you're going to need to chop someone down.
If you think that you'll be able to find a good hiding spot to camp out in, think again. In this mode, if you stand still for more than 5 seconds, your blip will immediately show up on the map. You'll need to keep moving to stay alive.
To make things even more deadly, you're going to be fighting in close-quarters. Two new locations are also being debuted with the new mode: Michael's Rockford Hills mansion and the Tequi-la-la nightclub. You'll be able to play through them all with your friends by loading up the Featured Playlist, which will let you go through all four maps in a row. You'll be able to download the update and play today, but only if you're on PC or a current-gen console. As with previous updates, Rockstar has stated that the limitations of the Xbox 360 and PS3 simply won't allow them to add more content updates to those platforms.
Source: Rockstar