GTA V Collectors Editions continue legacy of completist addiction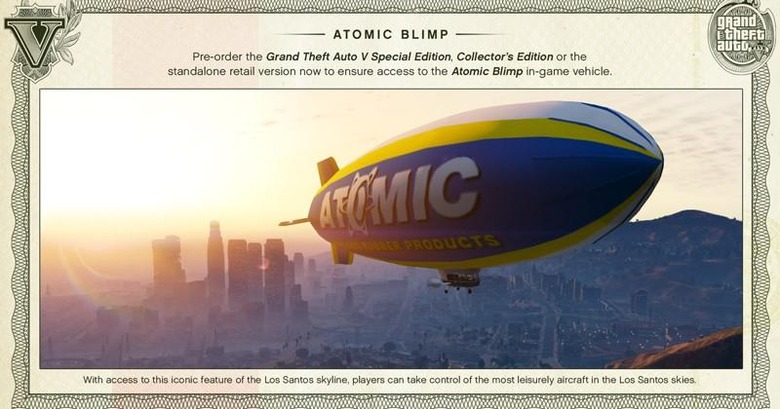 If you're a lover of the Grand Theft Auto series and absolutely need to own every little bit and piece from the creators of the series at Rockstar Games, you're about to need to start saving up. Two unique editions of Grand Theft Auto V have been shown this week by he creators of the series – one of them a Special Edition, the other a Collectors Edition.
This means there will be a least three different editions of the game. While each version allows you the same access to the full retail version of Grand Theft Auto V, the "Standard Edition" brings just that. Each of the three editions offer a pre-order bonus of an "Atomic Blimp" in-game vehicle for "iconic and leisurely" travel through Los Santos.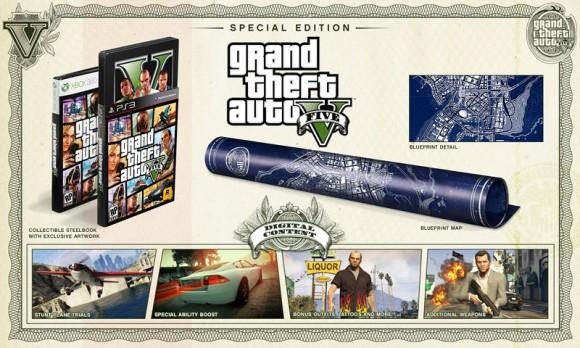 The Special Edition brings with it a SteelBook with artwork including custom and metallic treatments – strange printing techniques only used in presentations above and beyond the normal call of duty for an art book. A BluePrint map that shows a unique view of Los Santos and Blaine County is included in the package at 21.5 x 26.75 inches large.
The Special Edition will also add special weapons added to the players inventory available for free – melee Hammer, Bullpup Shotgun, and Pistol .50. In-game bonuses also include a "Special Ability Boost" which makes your special ability bar jump 25% faster, Stunt Plane Trials, Bonus outfits, tattoos, and aesthetic differentiators of all kinds.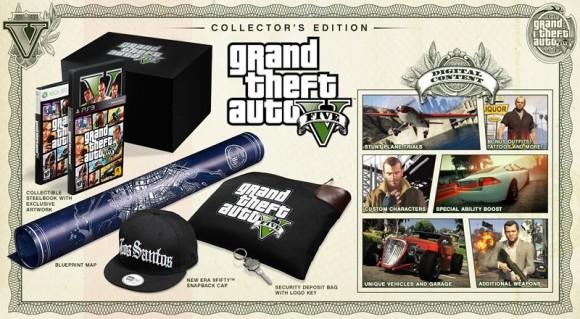 The Collector's Edition includes everything that's in the Special Edition, adding a Security Deposit Bag with Logo Key, 9FIFTY Snapback Cap, and a set of "classic" Grand Theft Auto characters for customization and use in the Grand Theft Auto Character Creation System.
The Collector's Edition also adds a garage where users are able to store custom vehicles. Single-player mode has this garage stocked with a 1930's style Hotknife hotrod as well as a CarbonRS sports bike. The online version will include a "high-end Khamelion electric car."
And of course the whole lot comes in a fancy collectable outer box with foil-embossed Grand Theft Auto V logo with matte, scuff-resistant film lamination. This Collector's Edition will run you a cool $149.99 USD while the Special Edition will cost $79.99, and the normal edition will cost you right around $59.99 – choose your fate!
SOURCE: Take-Two