Group video chatting is Snapchat's newest feature (and Instagram's sudden idea)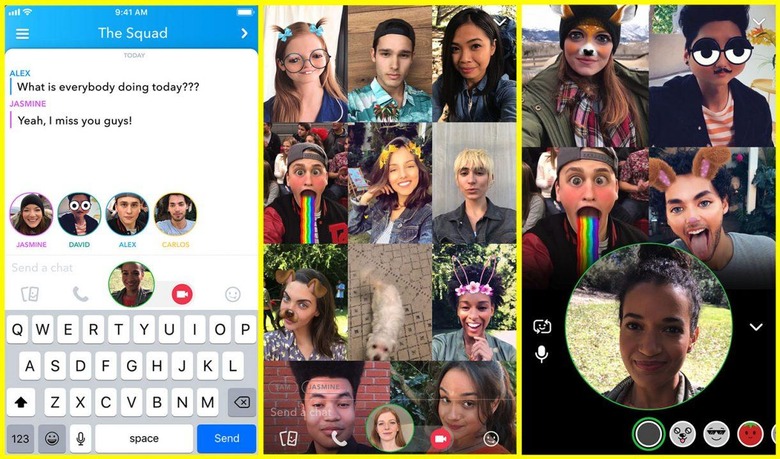 Snapchat's user growth numbers might be on the rebound, but the app's creators still have their work cut out for them if they want to stay competitive with Instagram. One way they've been doing that is by consistently rolling out new features for Snapchat, most of which are eventually borrowed by Instagram as well. Today's candidate for June's cool new Instagram feature is group video chatting.
Group video chatting is fairly straightforward in its approach. In addition to the app's disappearing text chats – which Snapchat says were intended to make it feel like you were simply hanging out with your friends – you can now also host a group video chat with up to 16 of your buddies at once. You can even participate in one of these chats even if you'd rather not show your face on camera, which is a nifty little feature.
For instance, if you'd like to join the video chat but don't really look your best, you can join it as an audio-only participant. Since these video chats take place within existing group chats, you can even mute your mic and type messages that your friends can read as as the video chat progresses. Of course, this being Snapchat, you'll also have access to the wide array of lenses the app offers.
Getting a video chat going seems pretty easy as well – simply tap the video camera icon you see in the lower left of your group chat screen to get one started. Friends who are participating in the group chat will receive a notification prompting them to join the video chat, allowing you to summon everyone quickly.
So, if video chatting is something you and your friends use, you can now do it in Snapchat in addition to all of the other apps that offer such functionality. This new feature is rolling out to Snapchat users globally this week, so keep an eye out for it to land soon if you aren't seeing it immediately. We'll let you know when this feature inevitably makes its way into Instagram as well, so stay tuned.