Griffin WoodTones Earbuds debut with Reclaimed Wood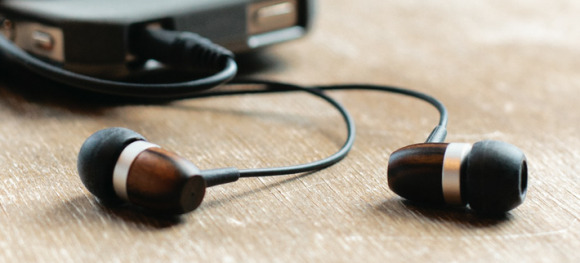 This week the folks at Griffin have dropped a brain new pair of high-quality earbuds on the world called WoodTones. These earbuds are made with wood reclaimed from other manufacturing processes and will make you feel super green as you pump hot beats into your brain from your smartphone. Each pair of WoodTones is unique as the harvested wood used to create each bud is really, truly made of a completely one-of-a-kind piece of wood.
These bits of wood are polished to a smooth satin finish before they have the audio components added in, this creating a lovely woodgrain look and smooth feel on each unit. The wood also lets the earbuds microdrivers ring true, as any wooden speaker owner will be quick to tell you. Ethan Opelt, Line Manager of Griffin's Audio category lets the world know what the situation is:
"Griffin's new WoodTones combine the aesthetic and acoustic benefits inherent in real wood, resulting in great-sounding and great-looking earbuds. WoodTones accentuate vocals and bass while also improving sound volume, meaning users can listen at lower volume levels than usual while still enjoying the same caliber of sound." – Opelt
Inside you've got 8mm neodymium drivers and Griffin promises that because they're so lightweight and comfortable, they're able to be worn for extended periods of time without fatigue. Each set comes with three sizes of cushions and the whole package is contained inside a lovely hemp fiber material and drawstring carrying pouch. These earbuds are available starting today for $29.99 at Griffin's online shop.