The folks at Griffin have revealed a lovely multi-device charger for your home or office by the name of PowerDock 5. This machine works to charge up to five devices at once and, as you can see, it works with Apple devices (as well as anything else working with USB) just so long as you've got the right connection cord. Along with this release you'll see a couple of new Griffin ChargeSensor-weilding adapters for your everyday USB-bound device charging action.
The PowerDock 5 consists essentially of a massive power source with five large bays that hold your smart devices upright, one next to the other, as they charge. The side of the PowerDock 5 has a set of 5 USB ports where your own cords will be attached. This machine is able to work with smartphones and tablet of all types, again, just so long as you've got the cords your devices use on the regular.
Next you've got the Griffin PowerBlock Universal as well as the PowerJolt Universal. Both of these accessories work with ChargeSensor technology – this technology "senses the requirements of any device plugged into it, providing optimal charging for all USB-chargeable devices." The PowerBlock is a low-profile plug that's made to fit in nicely along with the rest of your plugs in a power strip.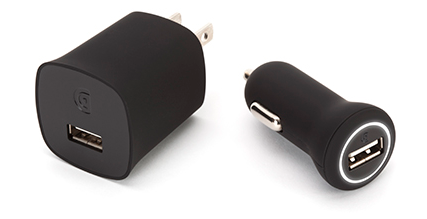 The PowerJolt also works with a low profile plug for your auto's 12 volt accessory outlet with a powerful 10 watt charging circuit ready for action. This tiny beast has an LED power indicator to tell you when the device is ready to safely charge with and works with an internal SmartFuse with its own built-in circuit breaker with no fuses that need replacing.
The PowerDock 5 will run you $99.99, the ChargeSensor PowerBlock will be $29.99, and the PowerJolt will be out for $24.99, and the whole lot will be available in the Spring of 2013. Be sure to stick with SlashGear to see the full CES 2013 blast both in release and hands-on form all week though our giant CES portal!