Griffin PowerDock 5 arrives as five-port charging station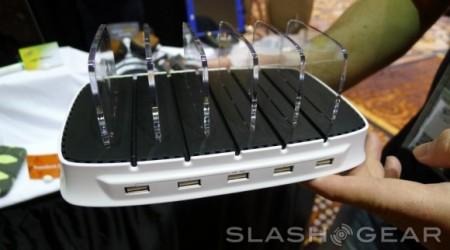 It's been awhile since we last heard about Griffin's PowerDock 5 charging station — back in January at CES, in fact. However, the company finally launched the new product today and is touting it as a central place to charge all of your mobile devices, including tablets, complete with five charging bays with their own USB port.
What's quite unique about the PowerDock 5 is that it includes clear plastic dividers that separate each of the charging bays, but they also act as a support for leaning your mobile devices against, and they're strong enough to support a full-size iPad. Griffin is marketing the PowerDock 5 for iOS device, but we reckon it can be used with just about any other device as well.
As for specifics, each USB port is rated at 10 watts (5 volts DC @ 2.1 amps). 2.1 amps is enough to adequately charge a tablet and the extra amperage can charge a smartphone faster than the traditional 1 amp would, but if there's anything you should know about battery health, it's that battery life can degrade over time if you overuse amps when charging a phone, so that's something to keep in mind for the future.
We took a gander of the charging station at CES and were surprised by how light it was. It's essentially made entirely of plastic with a rubber base on the bottom to prevent it from sliding around on tabletops. As mentioned, the plastic dividers seemed strong enough to support even the heaviest of mobile devices.
The PowerDock 5 is priced at $99.99 and is available on Belkin's website. We should also be seeing it pop up on retailer website as well in the next few weeks as the device becomes more ubiquitous. $100 is certainly a pretty price to pay for five USB ports, but if you're looking for a neat solution during parties where your friends can charge up, the PowerDock 5 could make the shortlist.