Griffin offers Woogie case for iPhone and iPod touch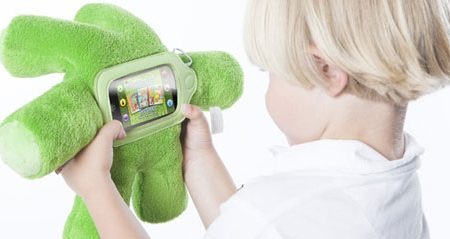 My kids really like to play with my iPhone and the iPod touch we have laying around here. The thing I always worry about is that they will drop the iPhone and crack the screen. Even if I have a case on my iPhone my I know if you drop it just right with the case on the screen will crack.
A new case from Griffin has debuted called the Woogie. It looks like a flower that is green and has six little arms. In the middle of the stuffed animal looking case is a plastic covered pouch where you can put the iPhone or touch in for protection.
The little case has a speaker built-in as well and gets power from a pair of AAA batteries that are included. The soft stuffed animal design should do a great job of padding the iPhone if the child drops the thing. You can get the Woogie for $19.99 right now.