Today at CES, Griffin is showing off a new product that shows the efforts of a partnership with Crayola. It's called the Light Marker, and it's essentially a laser pointer on steroids. Griffin demoed it for us today, and while it still has its bugs and quirks, we can't imagine that a whole lot of kids would be disappointed with it.
The Light Marker pen relies entirely on the iPad's front-facing camera, and it simply shows a red dot on the iPad's display that shows where the "cursor" is — think the Wiimote, but not for gaming in particular. The pen and the accompanying app work together to create any kind of drawing that your mind conjures up.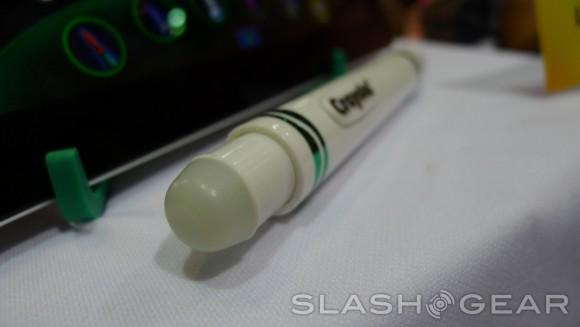 The light marker will cost only $30, and the company is also outing what they call the Digital Activity Center and Color & Play Workstation for $40 and $20, respectively. These should arrive sometime in the spring, and the specialized iPad apps for the Light Marker should arrive later this month for $3.