Griffin Cove wants to give devices a home inside your home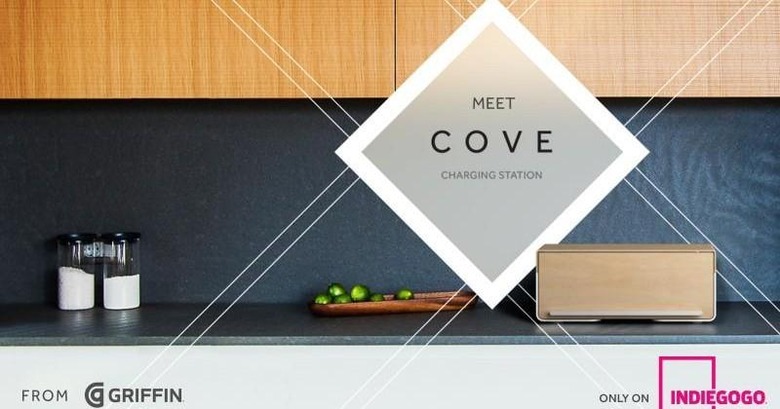 Acclaimed mobile device accessory make Griffin has a new product in the works, but it is going about things quite differently this time. The Cove is more than just a charging dock. It is also meant to masquerade as a stylish piece of furniture inside your (presumably stylish) house. It is, so to speak, a home for your myriad mobile devices in your house. But more than just that, Griffin is taking a different spin in actually making the product, preferring to go first to its customers instead of straight into the manufacturing plant.
Research firm NPD says that, on average, a home as at least 5.7 devices in total. Of course, that's only the average. Some have definitely more than that number, spread among the members of the family. Some even reach that number with just one person's gadget pile alone. In almost all of these situations, users love their devices, but do not the tangled mess that charging cables and plugs create. That's were Griffin Cove comes in.
Cove provides a single place for at most 5 devices, whether they be tablets or smartphones, to charge and charge in style. Inside the rather unassuming box are three shelves, each lines with non-slip lining where your devices can lie in rest without fear of scratches. The sliding door, which conceals the devices inside, also doubles as a tablet or smartphone stand for hands-free reading.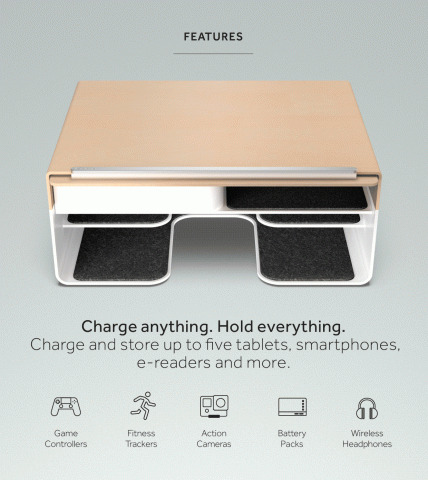 Technically, Cove is a charging dock in a box, but it's a very smart one. It has 5 USB ports capable of giving out up to 12 watts of power, enough to charge not just smartphones but tablets as well. Griffin's ChargeSensor technology ensures that the proper amount of charge is delivered to the device as needed. And you won't have to worry about hogging wall outlets either, as Cove only needs a single socket to power it all.
More then just the product, Griffin is taking to crowdfunding, particularly Indiegogo, to turn this idea into an actual product. Some might wonder why an established company would seek crowdfunding when it is very well capable of financing production itself. Griffin insists that this campaign is more about the crowd and less about the funding, involving the backers in the design and development of the Cove. Griffin is asking for $30,000 only to fund Cove. An early bird pledge of $150, limited to 100 slots only, gives a $50 discount off the regular $200 tier to get a single Cove. A $50 shipping perk is needed for those outside the US.